San Pablo Reservoir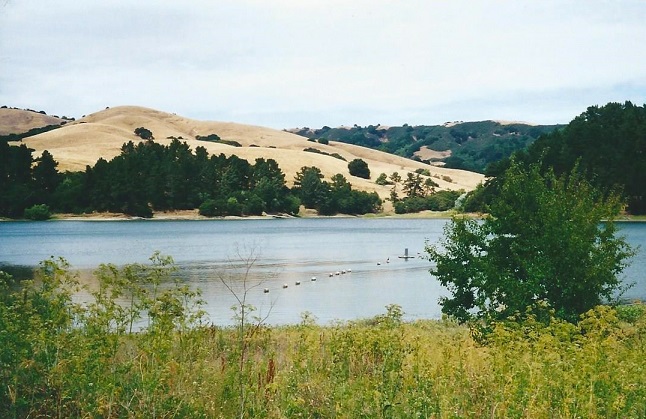 San Pablo Reservoir Kayak, Canoe, SUP & Kayak Fishing Information
San Pablo Reservoir's inspiring scenery and tranquil environment provides a sense of solitude while paddling. Its long and narrow shape allows for easy crossover access, which makes it an ideal location for all levels of paddlers. In addition to excellent paddling opportunities, the reservoir offers an assortment of hiking and horseback riding trails in the area. The restriction on windsurfing, swimming, jet and waterskiing reduces some of the crowds and boat congestion. However, the reservoir is a popular destination for fishing and picnicking.
NOTE If your vessel is coming from an area of high risk it will not be allowed to launch in EBMUD reservoirs. Vessels will fail the vessel history survey and not be allowed to launch for the following reasons:
• The vessel comes from a high risk area. High risk areas are defined as the general areas where positive identification of one of the mussel species has been documented. At this time, this includes all counties of Southern California and all vessels from outside of California. County of origin is determined by vessel registration documents.
• Vessels having been launched on waters in the high risk areas (see above) within the past 30 days will also not be allowed to launch.
• Boat operator fails to comply with any aspect of the inspection process. Quagga mussel inspection.
San Pablo Reservoir offers some of the best fishing opportunities in the East Bay for trout, largemouth bass, catfish, crappie, and sturgeon. The lake is stocked regularly with 64,000 rainbow trout and catfish by the Department of Fish and Game. The concessionaire also plants 140,000 rainbow trout which average a foot in length which makes this a popular kayak fishing destination during the spring and summer on the weekends. A couple of fishing hot spots are Sandy Point and Berkeley Tower.
Average
Temp
Jan
Feb
Mar
Apr
May
Jun
Jul
Aug
Sep
Oct
Nov
Dec
High
57
61
63
66
68
71
70
71
73
72
64
57
Low
43
45
47
48
51
54
55
56
56
53
48
43
Open: The reservoir is open daily from 6:00 a.m. to 9:00 p.m. mid-February to mid-November for boating and day use. The boat speed limit is 5 m.p.h. along the shoreline and throughout all of the coves and a 25 m.p.h. boat speed limit in the main body of the reservoir. A boat permit is required which can be purchased at the marina by the parking lot. The boat launch open 7 days a week.
Fees: There are fees to launch, for day use, a boat permit and for pets.
Reservoir Facilities: The facilities include flush toilets, water, a boat launch, a snack bar, b
oat rentals, a store and marina, fishing, picnicking, power-boating, and hiking and horseback riding trails. Windsurfing, swimming, jet and waterskiing are not allowed. A six lane boat launch facility can accommodate motor boats and kayak/canoe launching. All boats must be inspected prior to launching. A visitor center offers fishing bait and tackle, as well as outdoor clothing, hats, sunscreen, gifts, and supplies.