Santa Cruz Harbor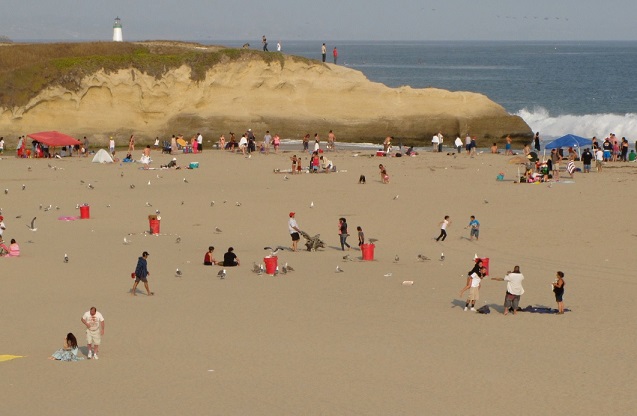 Photo Credit
Lyrinda Snyderman
Santa Cruz boasts a Mediterranean climate, surf and its quaint, laid-back atmosphere. As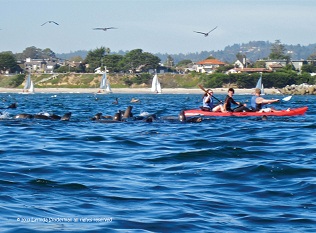 you paddle out into the ocean, you can leave all the worries and stress of the city behind. Paddling Santa Cruz Harbor is very enjoyable.
For a more challenging paddle you can start at Natural Bridges State Park where you can launch your kayak from the beach and paddle up the coast to the sea caves and pocket coves of Wilder Ranch. After paddling through 'Hole in the wall' cave you can enjoy a nice lunch on a secluded beach. Santa Cruz is a popular a kayaking and SUP boarding destination from which to embark on paddling trips of a variety of lengths.
Any where you can find parking and a path down to the beach is a potential put-in for a kayak. However, one of the best places to launch a kayak is at the Santa Cruz Harbor. While you can use the north or south side of the harbor, the dock on the north side is ideal to launch a kayak. .If you paddle to the right away from the docks you'll paddle into the inlet. The inlet is in-between two rock wall jetties protecting the harbor. Or you can paddle out toward the ocean .Once out into the ocean you can head either left or right.
Just a short paddle from the Santa Cruz Harbor are a number of areas productive for rockfish, lingcod and halibut from May through October. Halibut, salmon, crab and rock fishing are decent on the inside waters near the Santa Cruz Harbor.
Santa Cruz boasts a comfortable year-round climate, and a laid-back atmosphere. Caution: Large waves can break at the entrance to the harbor. Before you head out to the ocean, watch where and how the waves break at the opening. Sometimes, the safe area is rather narrow, and you will have to quickly paddle your kayak out into the ocean.
If you want additional information about this destination you can find it in this paddler's guide. Here you will find details such as the address, telephone number (if available) of the lake and campground, the directions, launch accesses, miles of shoreline, surface acres, terrain description, weather conditions, the lake and campground facilities, and a map with the location of the launches, marinas, and campground along with additional details about this featured destination.