Santa Cruz Harbor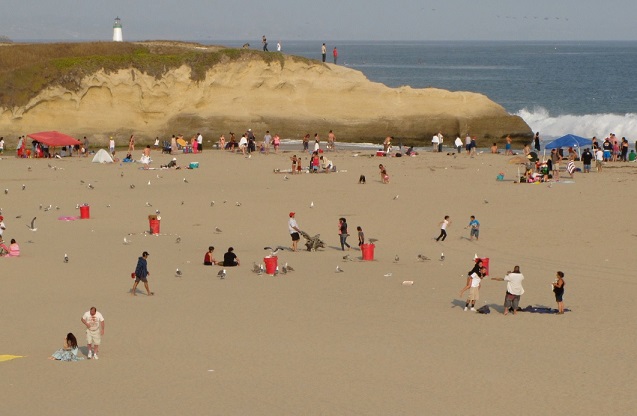 Photo Credit
Lyrinda Snyderman
Santa Cruz Harbor Kayak, Canoe, SUP & Kayak Fishing Information
Santa Cruz boasts a Mediterranean climate, surf and its quaint, laid-back atmosphere. As you paddle out into the ocean, you can leave all the worries and stress of the city behind. Paddling Santa Cruz Harbor is very enjoyable.
For a more challenging paddle you can start at Natural Bridges State Park where you can launch your kayak from the beach and paddle up the coast to the sea caves and pocket coves of Wilder Ranch. After paddling through 'Hole in the wall' cave you can enjoy a nice lunch on a secluded beach. Santa Cruz is a popular a kayaking and SUP boardin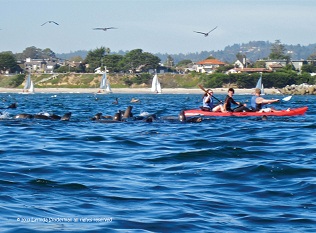 g destination from which to embark on paddling trips of a variety of lengths.
Any where you can find parking and a path down to the beach is a potential put-in for a kayak. However, one of the best places to launch a kayak is at the Santa Cruz Harbor. While you can use the north or south side of the harbor, the dock on the north side is ideal to launch a kayak. .If you paddle to the right away from the docks you'll paddle into the inlet. The inlet is in-between two rock wall jetties protecting the harbor. Or you can paddle out toward the ocean .Once out into the ocean you can head either left or right.
Just a short paddle from the Santa Cruz Harbor are a number of areas productive for rockfish, lingcod and halibut from May through October. Halibut, salmon, crab and rock fishing are decent on the inside waters near the Santa Cruz Harbor.
Wind & Weather Conditions: Santa Cruz boasts a comfortable year-round climate, and a laid-back atmosphere. Caution: Large waves can break at the entrance to the harbor. Before you head out to the ocean, watch where and how the waves break at the opening. Sometimes, the safe area is rather narrow, and you will have to quickly paddle your kayak out into the ocean.
Average
Temp
Jan
Feb
Mar
Apr
May
Jun
Jul
Aug
Sep
Oct
Nov
Dec
High
61
63
65
69
71
74
75
76
76
73
65
61
Low
40
42
43
44
47
50
53
53
52
48
43
40
Open: The harbor is open daily all year, twenty-four hours a day, with running lights at night. The boat speed limit in the harbor is 5 m.p.h.
Fees: There is a fee for using the harbor parking lot. If you are renting a kayak from the Kayak Connection, they will allow you park for free in front of their building. There is also free street parking, but you will have a lengthy portage.
Harbor Facilities: Santa Cruz Harbor offers a variety of recreational opportunities from sailing, boating, kayak fishing, and walking, jogging, bicycling paths with scenic views of t
he harbor. The harbor facilities consist of full service marina, a launch ramp, portable restrooms and faucets, (but no hoses) to wash off your kayak afterward. In the summer months they run a free water taxi service that runs up and down the harbor or just simply across to the other side, either way it's fun and free so check it out!