Scotts Flat Reservoir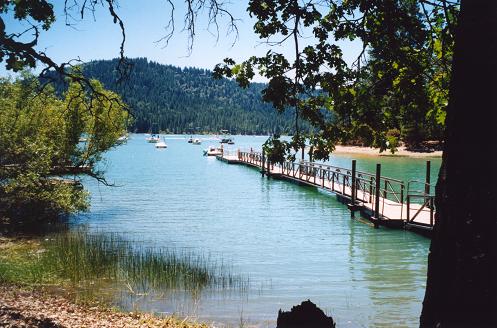 Scotts Flat Lake Kayak, Canoe, SUP & Kayak Fishing Information
Scotts Flat Reservoir lies nestled in conifer forest, and is beautiful beyond the imagination. This popular destination is open year-round twenty-four hours a day to all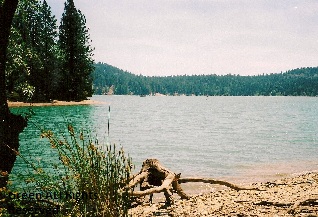 types of boating, except for jet and waterskiing. If you have never paddled at night, this is the perfect place to give it a try. With a companion, it's safer and more romantic. Paddling under the stars is an experience you will never forget.
The excellent paddling opportunities and outstanding camping facilities put Scotts Flat Reservoir at the top of my list of lakes to paddle in Northern California. Sailing, and windsurfing are just a couple of the many aquatic activities that can be enjoyed here. There are also numerous marked and well mainta
ined trails in the area that provide a pleasant scenic hike. The only drawback at the reservoir is the fast-moving powerboats that disrupt the peaceful atmosphere and the water's perfect reflections.Scotts Flat Reservoir has a variety of fish species which consists of rainbow and brown trout, kokanee salmon, small and largemouth bass, catfish, and bluegill. It is stocked with 18,000 rainbow, and 2,000 browns in the 10 to 12 in range beginning from April through mid summer, which makes it the best time of year to catch trout at this gorgeous destination. This reservoir also provides pretty good smallmouth bass fishing during the summer, in the early morning and in the evening.
Average
Temp
Jan
Feb
Mar
Apr
May
Jun
Jul
Aug
Sep
Oct
Nov
Dec
High
50
53
56
62
70
79
86
85
80
70
56
50
Low
32
33
35
38
44
51
56
55
51
44
36
32
Lower Scott's Flat Lake does not allow motorized boats, so the water stays smooth as glass. This is the ideal lake to paddle board on. You can pretty much have the lake to yourself to just cruise around and explore. It is also known for some superb fishing opportunities.
Open: The reservoir is open daily year-round, twenty-four hours a day for boating, depending on weather conditions. The boat speed limit is 45 m.p.h. during the day and 10 m.p.h. at night.
Fees: There are day use, launch, camping and pet fees.
Lake Facilities: There are two boat launches, a full-service marina, boat rentals, a Laundromat, groceries, swimming, windsurfing, sailing, fishing, power boating but no jet skiing. Leashed pets are allowed.