Serene Lakes
Serene Lake Kayak, Canoe, SUP & Kayak Fishing Information
Area Map #161 Miles of Shoreline: 2 Lake Surface Acres: N/A Elevation: 7000' Address: 111 Soda Springs Road Norden, CA 95724 Ph:530 2426-7660
Paddle Notes: The peaceful atmosphere sets the stage for this perfect paddling destination. Serene Lakes captured my heart with its breathtaking beauty. The restriction of motorized boats and the easy paddle around its incredibly scenic shoreline guarantees the perfect outing for the entire family, at this "serene" destination. Ice Lakes Lodge, located on the eastern shore, makes an excellent base camp for a week long paddling trip to the other nearby lakes in the vicinity. The lodge has a sandy swimming beach with a stunning panoramic view of the lake from inside its restaurant. Guests can hand launch their kayak from Ice Lakes Lodge. There is small a public dock located on the eastern shore, off of Hemmlock and Lake Drive.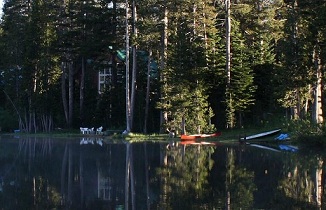 Kayak Fishing: Swimming, sailing, rowing, canoeing, windsurfing, and fishing are popular activities on Serene Lakes. Serene Lakes has better scenery and paddling than fishing, but there are a few rainbow, and brook trout and catfish to be taken here but those few are difficult to catch.
Wind & Weather Conditions: The wind can whip up quickly across the lake, but it is typically calm until about midday and during the early evening hours when the sun melts into the horizon. During the summertime, the daytime high air temperature lingers between the mid-70s and the mid-90s, and in the winter this area receives heavy snowfall.
Average
Temp
Jan
Feb
Mar
Apr
May
Jun
Jul
Aug
Sep
Oct
Nov
Dec
High
40
42
45
52
51
71
79
79
72
62
47
40
Low

0

0
0
0
0
0
0
0
0
0
0
0
Terrain: The lakes are surrounded by acres of pine and fir with numerous cabins interspersed throughout the forest and along the shore. There is limited shoreline access due to the dense groves of conifers and pines lining the water's edge. The lakes feature an uncrowded atmosphere and earth shattering views of a thick woodland, casting reflective images onto calm water, uninterrupted by motorized boats. A narrow passage separates the lakes from each other.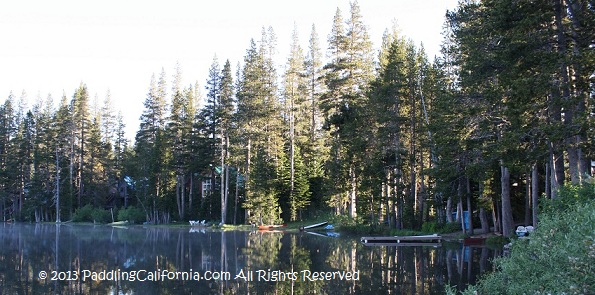 Open: Serene Lakes are open daily twenty-four for boating from late May to late October, weather permitting. No motorboats are allowed.
Fees: There is a fee to camp but no day use fee.
Lake Facilities: The facilities consist of a boat launch, hiking and bicycling trails, sailing, fishing, windsurfing, and swimming. Only electric motors are allowed.
Directions: From the town of Cisco Grove off of Interstate 80, head east for about nine miles to the town of Soda Springs. Exit on Norden/Soda Springs in the town of Soda Springs. Travel east on Donner Pass Road for about one-half mile. Turn right on Soda Springs Road and drive for two-point-two miles. Then turn right on Serene Road to reach the launch area by Ice Lakes Lodge. Map
Serene Lakes Camping Information
Campground: Hampshire Rocks Campground (The nearest campground is located 5 miles west off of Interstate 80. Ph: 530 426-3609
Campground Facilities: There are 31 tent or RV sites with pit toilets but no water.
Reservations:
Required: No
Accepted: Yes
Check-in Time: 2:00 p.m.
Check-out Time: 12:00 noon
Minimum Stay: 2 nights on weekends
Maximum Stay: 14 days
Reservations #: 800 444-7275
www.reserveamerica.com