Silver Lake - Bucks Area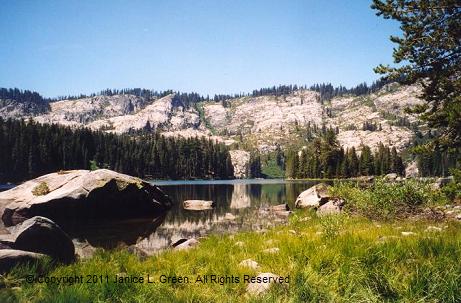 SIlver Lake Kayak, Canoe, SUP & Kayak Fishing Information
After a long and difficult drive to reach Silver lake, I was rewarded with a paddling adventure of a lifetime without a soul in sight. This spellbinding lake provides paddling o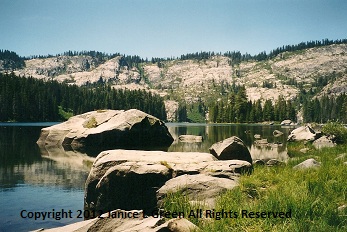 pportunities unlike any other place in Northern California. It is easily one of my favorite paddling destinations when I want to "disappear".
This seldom traveled lake is perfect for adventurous paddlers who enjoy paddling and camping at isolated destinations. It makes an excellent weekend trip for you and a companion. The lake features primitive wilderness campsites, stunning reflective views upon the lake's crystal clear water surface and ideal paddling opportunities.
You can hand launch your boat from along the shoreline, but you may have to hand carry your boat a short distance from the parking area to the shore. Boats with motors are not permitted.
Boats with motors are not allowed on Silver Lake which makes it a perfect kayak angling destination, providing the road is drivable. The last two miles of the lake access road was in extremely poor condition when I was there in July 06. Vehicles that ride low to the ground may have difficulty driving on this road.
The Department of Fish and Game plants 1,000 rainbows and 2,000 brook trout fingerlings each year, which may not seem like very many fish, but this lake doesn't get a whole lot of action due to its remote location.
Average
Temp
Jan
Feb
Mar
Apr
May
Jun
Jul
Aug
Sep
Oct
Nov
Dec
High
47
53
59
65
75
83
91
91
84
73
57
47
Low
24
27
29
31
37
42
44
42
38
31
28
24
Open: Silver Lake is open mid-May to October 31st, weather permitted. Boats with motors are not allowed. The lake access road is not plowed in the wintertime. Boating is allowed seven days a week.
Fees: There is no day use or fee to camp.
Lake Facilities: There is hiking and bicycling trails, fishing and a hand launch. NOTE: Bring your own water. Mt. Hough Rangers Ph: 583 283-0555 Plumas Visitors Center Ph: 530 283-6345