Smith Lake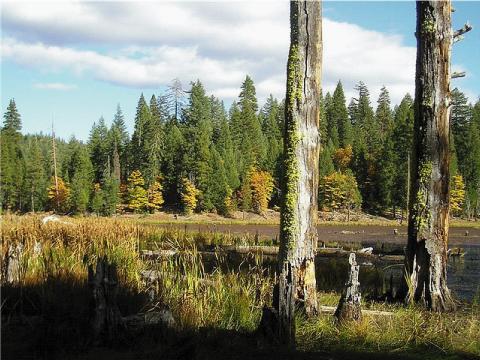 Smith Lake Kayak, Canoe, SUP & Kayak Fishing Information
Paddling on this lake can be rather annoying because the watershield plant, floating on the water surface, wraps around your paddle blade like a giant octopus. There are a few campsites are directly on the lake, which isn't entirely a good thing b
ecause you are utterly terrorized by mosquitoes. The lake harbored an entire orchestra of frogs, and a flock of geese.
This lake is suitable only for the adventurous paddlers who enjoy desolate lakes that have primitive camping facilities. I would strongly recommend paddling and camping here with a companion due to its remote nature and lack of people in the vicinity. You'll most likely have the entire lake and small campground to yourself.
NOTE: Driving in a four-wheel drive vehicle would be more appropriate if you want to travel to Smith Lake. Drive under 15 m.p.h crossing over the Snake Lake Bridge. Heavy vehicles are not advised to drive across the bridge, until it is repaired.. The superstructure of the bridge was coded as being in a serious condition, indicating deterioration affecting primary structural components.
Snake Lake is an out-of-the-way destination, and to make matters worse is the catch rate isn't very high perhaps due to the overgrowth of the watershield. You'll end up hooking more water plants than you will fish.
Average
Temp
Jan
Feb
Mar
Apr
May
Jun
Jul
Aug
Sep
Oct
Nov
Dec
High
47
53
59
65
75
83
91
91
84
73
57
47
Low
24
27
29
31
37
42
44
42
38
31
28
24
Open: Boats with motors are not allowed. The lake is open daily all year, weather permitting for boating. Road closures can occur in the wintertime due to snow.
Fees: There aren't any day use, launch, camping or pet fees.
Lake Facilities: Activities include non-motorized boating such as canoeing or kayaking, fishing, swimming, and picnicking. Biking or hiking around the lake. . There's a single campsite on the paved road, isolated about a mile from all the others, with its own private single-stall outhouse, with a lake view.