Snag Lake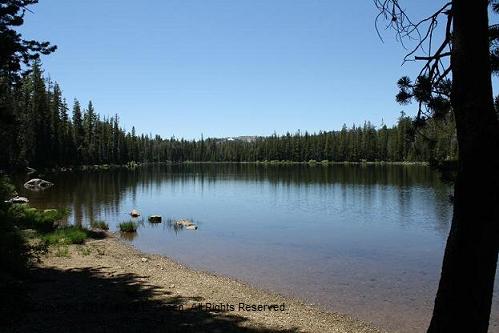 Snag Lake Kayak, Canoe, SUP & Kayak Fishing Information
The Lakes Basin Area is recognized as one of the most p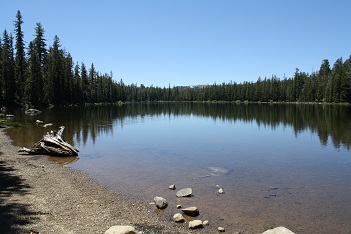 opular summer tourist spots in California, receiving thousands of visitors within a four month period. The rugged environment surrounding Snag Lake provides intriguing views of magnificent stands of conifers. The area is a stunningly beautiful place to paddle a series of small lakes in a day and is an ideal destination to spend the afternoon dozing in the sun. Towering pines and conifers provide plenty of shady sites in the campground area, which are available on a first-come, first-served basis. After a leisurely paddle, you can take a hike or horseback ride on one of the numerous trails. A wealth of wildlife can be seen, including bears.
If you didn't know Snag Lake existed, most likely you'd drive right by this pretty little lake that has only one-half of a mile of shoreline. The lake is almost completely hidden from the road by the thick growth of trees and underbrush. Cxhances are you're not likely to stumble upon many kayak anglers here either, because unlike its neighboring lakes, Snag Lake is only planted with 500 catchable rainbow trout in the 10 to 12 inch class each year. But look on the brighter side; you'll have better odds of landing one of them critters, because there's not a whole lot of anglers hooking one of the few trout that do exist here.
Average
Temp
Jan
Feb
Mar
Apr
May
Jun
Jul
Aug
Sep
Oct
Nov
Dec
High
48
50
54
60
60
78
85
85
80
69
54
48
Low
29
30
32
35
41
47
53
53
48
41
33
29
Open: Snag Lake is closed during the winter beginning from early November through the end of May depending on the level of snowfall. The campground remains open, weather permitting from about June 1st to October 31st. Boats with motors are not allowed. Boating is allowed daily.
Fees: There are no fees to camp, to launch, for day use or for pets.
Lake Facilities: There are hiking trails, hand launch access, but no water. Pets are allowed on a leash.