Snag Lake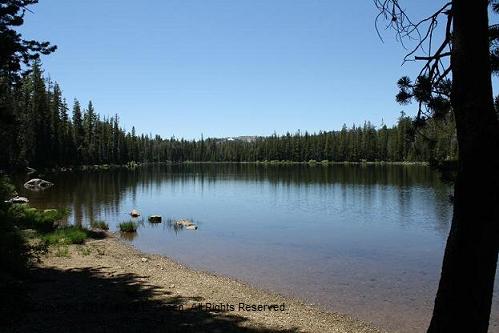 The Lakes Basin Area is recognized as one of the most p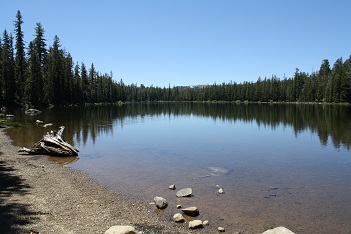 opular summer tourist spots in California, receiving thousands of visitors within a four month period. The rugged environment surrounding Snag Lake provides intriguing views of magnificent stands of conifers. The area is a stunningly beautiful place to paddle a series of small lakes in a day and is an ideal destination to spend the afternoon dozing in the sun. Towering pines and conifers provide plenty of shady sites in the campground area, which are available on a first-come, first-served basis. After a leisurely paddle, you can take a hike or horseback ride on one of the numerous trails. A wealth of wildlife can be seen, including bears.
If you didn't know Snag Lake existed, most likely you'd drive right by this pretty little lake that has only one-half of a mile of shoreline. The lake is almost completely hidden from the road by the thick growth of trees and underbrush. Cxhances are you're not likely to stumble upon many kayak anglers here either, because unlike its neighboring lakes, Snag Lake is only planted with 500 catchable rainbow trout in the 10 to 12 inch class each year. But look on the brighter side; you'll have better odds of landing one of them critters, because there's not a whole lot of anglers hooking one of the few trout that do exist here.
If you want additional information about this destination you can find it in this paddler's guide. Here you will find details such as the address, telephone number (if available) of the lake and campground, the directions, launch accesses, miles of shoreline, surface acres, terrain description, weather conditions, the lake and campground facilities, and a map with the location of the launches, marinas, and campground along with additional details about this featured destination.