Spicer Meadows Reservoir

Photo Credit Paul K. Redd
Spicer Meadows Reservoir Kayak, Canoe, SUP & Kayak Fishing Information
Spicer Meadows Reservoir has a reputation for having unbelievably gorgeous scenery. It is the largest of the four reservoirs in the area. The reservoir is approximately 8 miles long, and has a rugged, rocky shoreline with breathtaking views.
The reservoir is actually called "New" Spicer Reservoir, so presumably there was an old one here before. Based on the number of submerged trees, the old reservoir was at least 40 feet lower in depth than the new. Definitely makes for an interesting experience to paddle through a forest of dead/half submerged trees. With great paddling, and an abundance of outdoor recreational opportunities, it is well worth the long, winding drive to get here.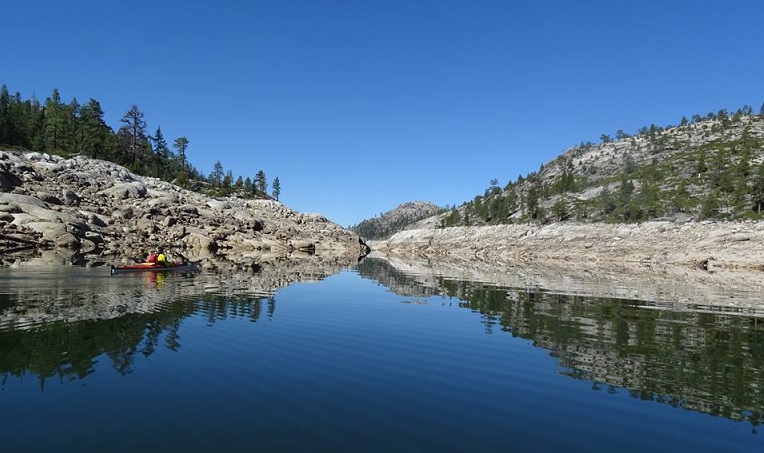 The reservoir offers excellent fishing opportunities. The northern arm of the reservoir, adjacent to the Carson-Iceberg Wilderness, is managed for non-motorized recreation which is ideal for kayak fishing. The fish in the reservoir are either wild trout or fish that grew up naturally in the lake after being planted as fingerlings by the Department of Fish and Game.
Large granite-lined boulders and the Central Sierra Nevada Mountains surround Spicer Meadows Reservoir. The campground is set in a timbered forest of Cedars, Jeffrey Pines, and Ponderosa Pines adjacent to the reservoir. Motor-driven boats are allowed on Spicer's Meadow Reservoir while canoes and kayaks tend to paddle nearby Utica and Union Reservoirs. Nesting osprey can be seen in the summer.
Average
Temp
Jan
Feb
Mar
Apr
May
Jun
Jul
Aug
Sep
Oct
Nov
Dec
High
53
56
59
65
73
81
88
88
83
73
59
53
Low
35
35
36
40
40
53
60
58
55
48
39
35
Open: June through October weather permitting, seven days a week. Power boats are allowed on the west end of the reservoir, but there is a 10 mph speed limit, so generally speed boats do not present any problem.
Fees: Launch access and day use is free, but there is a fee to camp.
Lake Facilities: A launch is located on the western side of the lake near the campground. Fishing, swimming, sailing, kayaking, canoeing, and motor boats are allowed, but motors are not permitted on the eastern side of the lake.
There is hiking, and horseback riding trails. The trail head at Spicer Dam provides access
to the Carson-Iceberg Wilderness. Vault toilets (accessible for persons with disability) are provided. Paved parking area for twenty-five vehicles with trailers and twenty vehicles. A wilderness permit is required if you camp overnight at the east end of the reservoir.