Stony Gorge Reservoir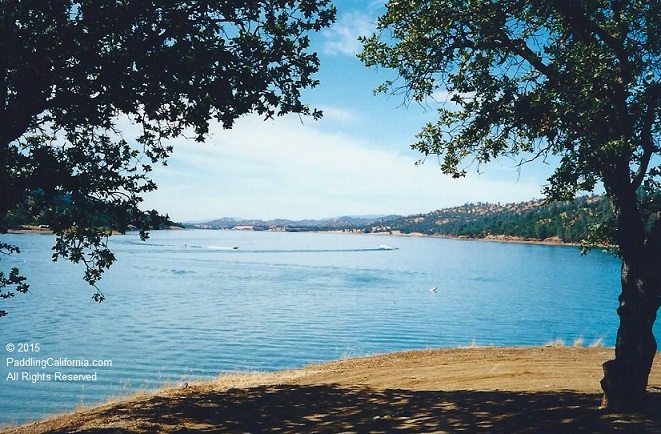 Stony Gorge Reservoir Kayak, Canoe, SUP & Kayak Fishing Information
Stony Gorge Reservoir is landscaped with sandy beaches set against a backdrop of low f
oothills covered with oak and chaparral. Surrounded by stretches of brush and wooded hills, this mid-sized beautiful low elevation reservoir allows all types of boating. Its warm, calm waters are ideal for jet and waterskiing, not to mention paddling.
Tent camping is allowed in designated areas along the shoreline with restrooms facilities provided. This reservoir is more suited for those individuals who thrive on paddling in out-of-the-way regions. It may not be the best retreat for novice paddlers because there is only one boat launch, located at Skipper's Point, which is accessible most of the year depending on the reservoir's water level.
During low water level conditions, the boat launch is inaccessible, which helps reduce the amount of powerboat and jet ski traffic. One boat ramp usable most of the summer, depending on water level. Free camping except for group camping area. NOTE: The rough dirt access road in the campground area may not be suited for motor homes and vehicles pulling large trailers, or for any vehicle after a recent rain.
Stony Gorge Reservoir is often passed by due to its barren appearance, and primitive restroom and camping facilities, but it does offer a wide variety of fish species including crappie, catfish, bluegill, and a few largemouth bass. Fishing in the coves located on the southwestern end of the lake, early in the morning provide the best kayak angling opportunities.
Average
Temp
Jan
Feb
Mar
Apr
May
Jun
Jul
Aug
Sep
Oct
Nov
Dec
High
55
59
62
69
77
89
93
92
87
77
63
56
Low
32
35
37
40
47
54
59
57
52
44
37
31
Open: Stony Gorge Reservoir is open for boating, (24 hours a day) and camping from April 1st to September 30th depending on when the rain begins. No posted boat speed limit.
Fees: Camping and day use are free, except for group camping.
L
ake Facilities: Stony Gorge Reservoir's facilities include a boat launch, power boating, sailing, windsurfing, jet and waterskiing, swimming and fishing. NOTE: Bring your own water. Camping is on a first-come, first-served basis. Use caution for rattlesnakes.