Stumpy Meadows Reservoir
Stumpy Meadows Reservoir Kayak, Canoe, SUP & Kayak Fishing Information
Experience the thrill of flat water paddling at this remote mountain reservoir, located in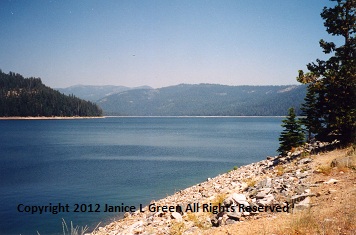 the Eldorado National Forest at 4260' feet elevation where you can avoid the crowds and boat congestion. If you want to paddle in a secluded area with breathtaking scenery, Stumpy Meadows Reservoir is the place to go.
The 5 m.p.h. boat speed limit on the entire reservoir provides superb paddling conditions. This gorgeous natural reservoir nestled in a mountain setting has only one boat launch located on the western shore.
Stumpy Meadows Reservoir doesn't get a lot of fishing pressure due to its out of the way location. It also provides some pretty good brown and rainbow trout action in a peaceful tmosphere due to its 5 m.p.h. boat speed limit, which makes it an ideal destination to paddle and fish. The reservoir is planted yearly with 16,000 rainbows and 2,000 brown trout in the 10 to 12 inch class, along with 20,000 fingerling browns
Average
Temp
Jan
Feb
Mar
Apr
May
Jun
Jul
Aug
Sep
Oct
Nov
Dec
High
53
56
59
65
73
81
88
88
83
73
59
53
Low
35
35
36
40
40
53
60
59
55
48
39
35
Open: During the winter months, the access road is closed from approximately September 24th to May 18th, depending on early or late snowfall. The boat speed limit is 5 m.p.h. Only 10 horsepower motors are permitted. Boating is allowed daily. The campground is open May 17th to September 23rd.

Fees: There is a fee for camping and for pets.
Facilities: The reservoir is used mainly for paddling, fishing and swimming for those individuals who are brave enough to plunge into the reservoir's ice-cold water. There is a s
wimming beach at the Vista picnic area. It is advisable to wear a wet suit when windsurfing. NOTE: The rural winding access roads in this area are often closed due to forest fires. Check with the Georgetown Ranger Station before traveling to this area to see if there are any road closures due to forest fires.