Sugar Pine Reservoir

Photo Credit Cheryl WOod
Sugar Pine Reservoir Kayak, Canoe, SUP & Kayak Fishing Information
Often the crow of a soaring bird is the only disruption at this peaceful reservoir. Sugar Pine R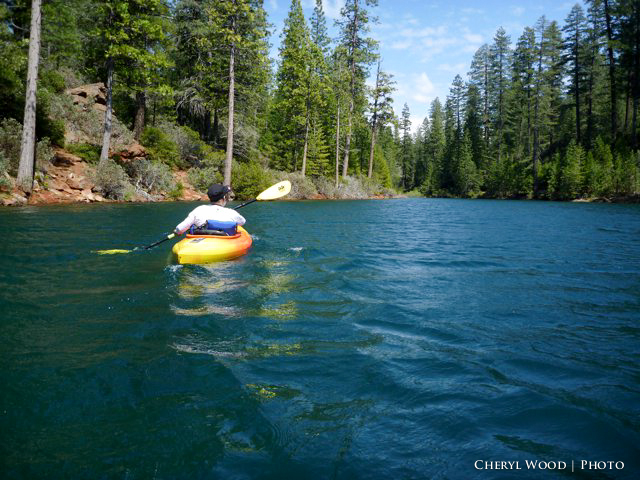 eservoir is surrounded by a dense mixed conifer forest, which meanders down to the water's edge. The three-and-a-half miles of shoreline provide an easy and delightful paddle. The boat traffic during the summer is minimal. The reservoir is primarily used for fishing, windsurfing and paddling. A hand launch access is located on the south shore. A designated swimming beach is located on the north shore by the Giant Gap and Shirttail campgrounds.
The reservoir's 10 m.p.h. boat speed limit deters the number of powerboat enthusiasts, though it is a popular summer destination for camping. Book your reservations in advance if you plan on camping here, especially on a holiday weekend.
The reservoir has four recreation areas around the reservoir. In addition to a soul-stirring paddling experience, there are numerous hiking and bicycling trails to explore in the area, but be on the lookout for bears. On my first trip to Sugar Pine Reservoir, I mistakenly took Finning Mill Road (off of Foresthill Road), and I almost collided with a bear sitting in the center of the road as I drove around a blind bend. I don't know who was more startled, me or the bear. That experience certainly put to rest any idea's I had about being able to out run a bear. I couldn't believe how fast it moved! I would highly recommend using the Sugar Pine access road which is about ten miles past the Foresthill Ranger Station.
7,500 catchable rainbows, and 20,000 fingerlings are planted annually at Sugar Pine Reservoir, plus there's also small and largemouth bass. German browns are occasionally taken here, but the Department of Fish and Game hasn't stocked the reservoir with catchable browns since the 1990's. The fishing season begins early in April continuing into early summer, but there's still pretty good trout action in the fall. Sugar Pine Reservoir is primarily a paddling and kayak fishing destination, due to the 10 m.p.h, boat speed, which deters fast-moving enthusiasts from intruding upon your kayak fishing experience.
Although most of the the reservoir's fish taken here are planters, the reservoir has a good holdover rate for trout during the summer. There is some natural trout spawning in the tributary creeks, but it is not enough to sustain the fishery.
Average
Temp
Jan
Feb
Mar
Apr
May
Jun
Jul
Aug
Sep
Oct
Nov
Dec
High
56
58
60
66
74
83
90
89
85
75
61
55
Low
35
37
38
42
48
55
61
59
55
47
39
34
Open: The reservoir is closed from late October to May due to heavy snowfall. The boat speed limit is 10 m.p.h.
Fees: There is a fee to camp, but there isn't any fee to launch or for day use.
Reservoir Facilities: All watercraft is permitted, but there is a 10 m.p.h. boat speed limit,
which prevents you from waterskiing. A paved boat launch is on the south shore. Other facilities include swimming, fishing, windsurfing, hiking and bicycling trails. Pets are permitted on a leash.