Thomas Edison Lake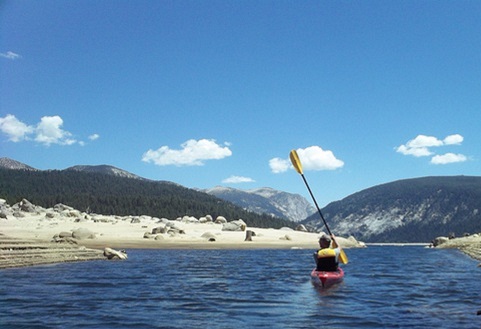 Photo Credit Michelle Nick
Thomas Edison Lake Kayak, Canoe, SUP & Kayak Fishing Information
Located in the Ansel Adams Wilderness in the Sierra National Forest, this stunning high elevation lake is surrounded by majestic mountain peaks that tower above a dense pine and conifer forest. A special feature about Thomas Edison Lake is it's an incredible cha
llenge to get there. Kaiser Pass Road, (County Road 80), is a steep two-way road, with hairpin turns barely wide enough for one vehicle. (Now I know why they are called hairpin turns; it's because they cause your hair to stand on end.)
There are sheer drop-offs, with no guardrails, and a broken paved road that looks more like a goat trail. All the while you are praying to yourself that another vehicle doesn't come from the opposite direction because one of you will have to backup. Needless to say large, wide RVs and vehicles with trailers are not advised to use this road. I could go as far as to say any vehicle that doesn't have four-wheel drive. If you weren't skittish about driving on these kinds of roads before, you will be after driving to Thomas Edison Lake.
The crystal clear water; minimal amount of watercraft and people, and the abundance of trout fishing make Thomas Edison Lake an ideal kayak fishing destination for an avid fishermen looking to hook eastern brook, or rainbow trout or an occasional brown. The lake receives yearly stocks of 8,000 rainbow trout in the 10 to 12-inch class by the Department of Fish and Game. After an early morning paddle, relax and fish, or find a sandy beach and take semi-warm swim.
Average
Temp
Jan
Feb
Mar
Apr
May
Jun
Jul
Aug
Sep
Oct
Nov
Dec
High
46
46
47
51
57
66
74
73
67
59
50
46
Low
26
25
26
29
35
42
48
48
44
37
30
27
Open: Thomas Edison Lake is open daily. Early or late snowfall can affect the accessibility to the lake. The boat speed limit is 15 m.p.h. during the day and 5 m.p.h. at night.
Fees: There is a fee for camping, and for the ferry, but no day use or launch fee.
Lake Facilities: The facilities consist of fishing, boating, swimming, hiking, windsurfing, a boat launch, boat rentals and a small store at Vermillion Valley Resort. Jet and waterskiing are not permitted. Edison Lake has a free public boat launch. Canoeing and kayaking near the shoreline are popular activities. Sandy beaches within the campground provide lake access for swimming.