Trinity Lake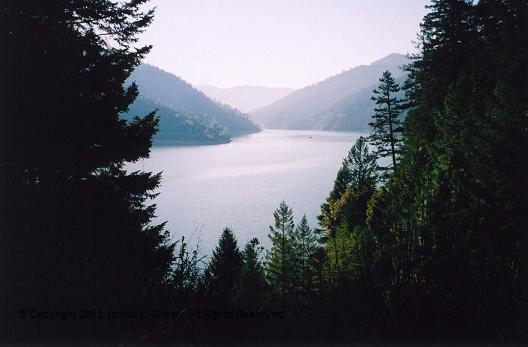 Trinity Lake Kayak, Canoe, SUP & Kayak Fishing Information
Trinity Lake is known for its ideal boat-in camping opportunities. It offers a scenic paddle in one of the finest kayaking destinations in California. Kayakers quickly realize that the view of the mountains casting perfect reflections onto the water is enough to get onto the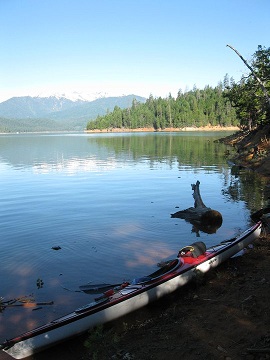 water at the crack of dawn!
Trinity Lake is located one-and-a-half hours from the city of Redding, near the town of Weaverville. This monstrous lake, located at 2300' feet elevation, is the third largest lake in California.
Photo Credit Photo Credit Barbara Barrett-Jerpe
Don't be surprised, if an eagle soars above the treetops ad swoops down to catch fish right out of the lake in front of your kayak. The lake is surrounded by Shasta-Trinity National Forest. The low mountainsides covered with magnificent forests of cedar and pine descend to the edge of the water. Snowcapped peaks frame this pristine mountain lake located in the majestic Trinity Alps. When you come to Trinity Lake, you will discover for yourself one of the finest paddling and boat-in camping destinations in the state of California.
Trinity Lake is recognized as one of the state's top fishing destinations and continues to provide excellent fishing for catfish, kokanee salmon, channel catfish, small and largemouth bass, bluegill, and chinook and trout. This lake is one of the best destinations in California to catch smallmouth bass during the early spring when they come out of hibernation. The lake is stocked yearly with 40,000 rainbow trout, and 5,000 brown trout. The northern arms of the lake is the best spot for largemouth bass. It is also one of the prettier areas on the lake to kayak.
Average
Temp
Jan
Feb
Mar
Apr
May
Jun
Jul
Aug
Sep
Oct
Nov
Dec
High
47
53
59
66
75
84
92
91
85
73
55
47
Low
31
33
35
37
42
48
52
51
45
39
35
31
Open: The boat speed limit is 5 m.p.h. within 200' fe
et of any shoreline and by the marinas. Boating is allowed daily year-round.
Fees: Boat-in camping is free. There are both free and a fee charged for camping at the other campgrounds.
Lake Facilities: The facilities consist of eight boat launches, four marinas, a grocery store and snack bar, boat rentals, swimming, hiking, bicycling and horseback riding trails,
boating, jet and waterskiing and fishing. Trinity Lake Resorts and Marinas operates from two marina locations. The Cedar Stock Marina provides houseboat rentals and a full compliment of marina services. The Marina has personal watercrafts, fishing boats, deck cruisers and ski boats for rent, fuel supplies, and a restaurant and gift shop.