Union Reservoir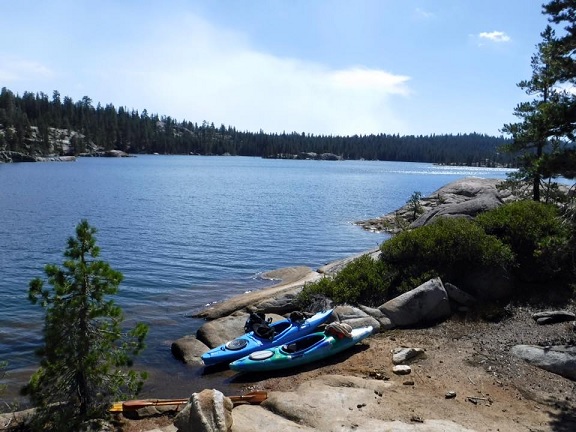 Photo Credit Andreas Modi
Union Reservoir Kayak, Canoe, SUP & Kayak Fishing Information
Union Reservoir and the adjoining Utica Reservoir are set in Sierra granite at 6,850 feet. It is an outdoor paradise of fresh blue water, awe-inspiring scenery, excellent hiking trails, first class dispersed walk-in campsites around the reservoir. Whether you visit for a day, a leisurely long weekend, or an extended stay, Union Reservoir will provide you with ample paddling opportunities to enjoy along with beautiful scenery and wildlife.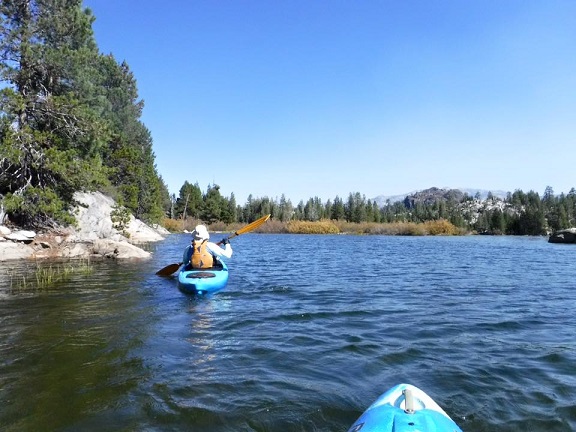 All the ingredients for a perfect paddling outing can be found at Union Reservoir and the surrounding area. There are a few islands that you can camp on which offer excellent boat-in camping opportunities. The reservoir can be paddled as a day trip by a strong paddler. Recreational activities include swimming, SUP Paddling, canoeing, kayaking, bird watching, and miles of hiking trails. Power boats are not allowed on this reservoir. Whether you enjoy a leisurely paddle, or casting out a line and hook, Union Reservoir has it all. If adventure is your passion, this destination is a "must see". The unspoiled natural wonders of Union reservoir are waiting for you!
Kayak angling in Union Reservoir is said to be consistently good from year-to-year, making it a very popular fishing destinations for anglers seeking eagle and rainbow trout. Union Reservoir provides the better fishing than Utica Reservoir, since it is stocked with 10 to 12 inch Rainbow and eagle lake trout each summer by the Department of Fish and Game, while Utica Reservoir is not. Union Reservoir is also stocked with kokanee salmon fingerlings.
Average
Temp
Jan
Feb
Mar
Apr
May
Jun
Jul
Aug
Sep
Oct
Nov
Dec
High
41
42
46
53
61
70
79
79
72
62
49
42
Low
15
17
22
26
32
37
40
38
33
26
20
24
Open: The area receives an abundance of snow in the wintertime. The reservoir access road is usually open from June to the end of October. The 5 m.p.h. boat speed limit keeps everything peaceful and quiet.
Fees: There is not a fee to camp, launch or day use fee. Fishing access is also free. You can park for free just about any place where you don't block the road. You need a permit to camp.
Lake Facilities: Vault toilets are provided, but there is no drinking water at the reservoir.
You need to bring your own water. Garbage must be packed out. Supplies and gasoline are available off Highway 4 in Tamarack. A primitive boat launch is available at Union Reservoir. Maximum boat speed is 5 mph. Utica Reservoir is managed for non-motorized boating. Hand launch access only. Car top boats only. You need to hand carry your kayak down to the water. Swimming is permitted, but use caution for extremely cold water temperature.