Union Valley Reservoir

Photo Credit Bre McGloughlin
Union Valley Reservoir Kayak, Canoe, SUP & Kayak Fishing Information
Located west of Ice House and Wrights Reservoir, Union Valley Reservoir is an advantageous paddling destination. Many campsites are within steps from the water's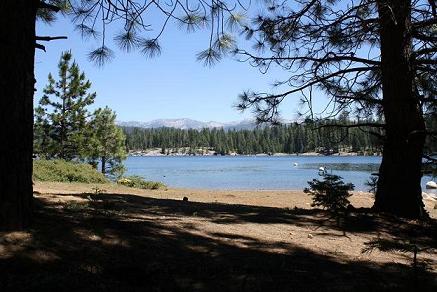 edge, so you can easily hand launch your boat from your campsite. Three launch access locations intersperse the reservoir, which allows novice paddlers to paddle different sections. Union Valley Reservoir is a popular place for windsurfing due to the windy afternoon conditions that frequently occur.
In addition to superb paddling opportunities and perfect campsite settings, the reservoir provides miles of hiking trails in the woodlands. Paddling at the break of dawn offers you the opportunity to catch a glimpse of the abundant wildlife in the area. Pack your kayak, camping gear and rods and head out to Union Valley Reservoir. Stay for a few days and take in the peacefulness beneath a night sky of a million stars. The memories will stay with you forever.
Kayak fishing around the 23 miles of Union Valley Reservoir shoreline is superb, especially for Rainbow Trout. Union Valley Reservoir produces a good supply of rainbow trout and even a few mackinaw (lake trout). This pretty reservoir also provides good fishing for brown trout, salmon, small and largemouth bass, crappie, bluegill and catfish. The Department of Fish and Game stocks Union Valley Reservoir yearly with 9000 rainbow trout in the 10 to 12 inch, class and 50,000 kokanee fingerling. Mackinaws are taken in the 10 to 20 range every year, but fishing for rainbow trout is more consistent. There is also an abundance of smallmouth bass in numerous picturesque coves around its twenty-three miles of shoreline.
Average
Temp
Jan
Feb
Mar
Apr
May
Jun
Jul
Aug
Sep
Oct
Nov
Dec
High
53
56
59
65
73
81
88
88
83
73
59
53
Low
36
35
36
40
40
530
60
59
55
48
39
35
Open: Union Valley Reservoir is open daily from about May 15th to October 15th for boating and camping, depending on road closures due to early or late snowfall.
Fees: There is a fee to camp.
Reservoir Facilities: There are 3 launches, power boating, sailing, windsurfing, fishing, swimming, hiking, jet and waterskiing. Swimming is usually limited to the hottest part of the summer due to the extremely cold water of the reservoir.