West Valley Reservoir

Photo Credit Claude Singleton BLM
West Valley Reservoir Kayak, Canoe, SUP & Kayak Fishing Information
West Valley Reservoir provides seven miles of shoreline and 970 surface acres for fun and recreation. The reservoir is located in the Northeastern corner of California, approximately twenty miles south of Alturas, in Modoc and Lassen Counties, at an elevation of 4,770 feet.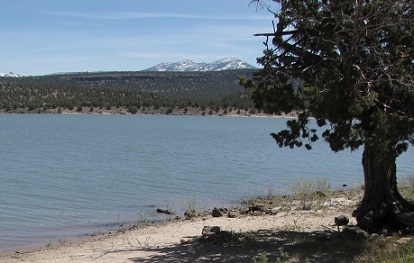 The reservoir offers kayaking opportunities along with fishing, camping, picnicking, hiking and boating. It is frequented mostly by the locals. Sailing, windsurfing, waterskiing, and swimming are also extremely popular here during the hot summer months. Wildlife lovers will appreciate the impressive variety of critters present at West Valley Reservoir, including deer, coyotes, golden eagles, and osprey.
If you're a kayak angler, you're going to love West Valley Reservoir. It's seven miles of shoreline provides superb of fishing opportunities.
The Ultimate Paddlers Guide to 264 Extraordinary Flat Water Destinations in California. BUY HERE

Kayaking California's Flat Waters is the most beautiful and informative resource available for California paddling enthusiasts.
Tucked away in an out-of-the-way fishing hole, a kayak angler can cast and pull in a trophy-sized rainbow trout. That experience is what has kayak anglers flocking to fish northern California's secluded West Valley Reservoir.
The reservoir used to be home to native and planted rainbow trout, Sacramento perch, and eagle lake trout, until individuals planted channel catfish in the reservoir. The catfish are overabundant and compete for food with the trout. Overall, if you're looking for a great getaway, West Valley Reservoir is one of the best kayak angling destinations in Northeastern California. It is secluded and full of fish, making it well worth the drive.
Average
Temp
Jan
Feb
Mar
Apr
May
Jun
Jul
Aug
Sep
Oct
Nov
Dec
High
43
47
53
60
60
79
88
88
80
67
51
43
Low
18
21
25
28
34
40
44
42
36
28
23
18
Terrain: West Valley Reservoir is near the small rural community of Likely in Modoc County. The terrain is gently rolling hills, dotted with evergreen Juniper trees and covered in native grasses and sage. Views of the South Fork Valley and the Warner Mountain Range can be seen in the distance.
Open: June to October weather permitting. The paved road to the campground and boat launch are not plowed in the winter.
Fees: There is no fee to fish, to camp, to launch or for day use.
Lake Facilities: The reservoir's facilities include power boating, fishing, sailing, jet and w
aterskiing, swimming, hiking, picnicking, and windsurfing. The reservoir has one boat launch. The motorboat speed is controlled and patrolled by Lassen County Sheriff. There isn't any marinas or any other facilities at the reservoir.