Yosemite Lake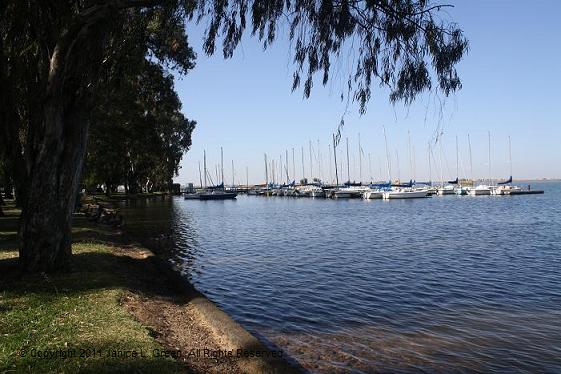 Yosemite Lake Kayak, Canoe, SUP & Kayak Fishing Information
Lake Yosemite is an artificial freshwater lake located approximately five miles east of Merced in the rolling Sierra Foothills. The lake is nearby the University California of Merced. There were an abundance of students trying to find a parking spot when I was here during mid-week in May. Yosemite Lake is a popular bicycling, canoeing and kayaking location. This man-made lake is located right next to UC Merced. Its a great place to paddle and have a picnic with friends.
Lake Yosemite is well noted by local fisherman as a premier bass fishing lake. It offers great fishing opportunities for kayak anglers, including those who also like to take in some sun. The lake holds a good population of trout, bluegill, and catfish. Trout are stocked in the early spring, but don't last through the summer because of water temperatures.
Wind & Weather Conditions: The warmest time of the year at Lake Yosemite comes with high temperatures in the 90's with night lows in the 60's. The cold days of the wintertime come with highs in the 50's, and night lows in the 30's. Gusty winds typically begin to blow beginning mid-morning.
Average
Temp
Jan
Feb
Mar
Apr
May
Jun
Jul
Aug
Sep
Oct
Nov
Dec
High
55
65
68
75
84
92
97
95
91
81
66
55
Low
37
40
42
45
51
56
61
60
56
48
41
36
Open: The lake is open all year from sunrise to sunset, 7 days a week.
Fees: There is a day use and launch fee. Bicyclists and pedestrians are exempt. They didn't charge a parking fee on weekdays, but they charge a fee on the weekend.
Lake Facilities: All boating is permitted, including jet skis and waterskiing. The lake is equipped with boat launches, a full service marina, and boat rentals (paddle boats, k
ayaks, and jet skis). Non-motorized boats are available on summer weekends from the concession stand. Swimming is allowed only in certain designated areas where life guards are present. Swimming outside of these areas is strictly prohibited and could result in a citation.