Lake Tahoe is a perfect example of the amazing paddling adventures you can find in Northern California. The mountainous landscape attracts the adventurous spirit and welcomes you to the ultimate paddling experience. You will be treated to phenomenal panoramic views of majestic mountains as you set out to explore all of the hidden treasures this exquisite lake has to offer.
Kayaking Lake Tahoe combines the splendor of the crystal clear water with magnificent mountain scenery. It is a true kayaker's getaway away from the hustle and bustle of everyday life, inviting you to enjoy the tranquility of a pristine mountain lake. The sheer beauty of this paddling paradise will leave you speechless.
Lake Tahoe offers an endless array of water sport options for individuals seeking superb kayaking, canoeing, SUP paddling, and kayak fishing opportunities. This destination is famous for its size and its large mackinaw and kokanee salmon. Mackinaws are mostly in the 5 to 8 pound range and are usually found at deep levels, but a few may be found in shallow water during the beginning of the season. The best spot to nab a mackinaw is in the Emerald Bay area, and along the northwestern shore.
Lake Tahoe is also known for its vibrant blue skies, its sparkling cold waters, and its hazardous wind conditions, especially on the eastern side of the lake. Even though the water temperature is icy cold, Lake Tahoe's water surface never freezes over. With an understanding of your kayaking ability, and an eye out for gusty winds or thunderstorms, even a novice kayaker can experience an enjoyable paddling outing at Lake Tahoe.
Lake Tahoe's water looks just as clear and blue when you're sitting on your kayak as it does from the lookout "Inspiration Point" overlooking Emerald Bay, along Highway 89. Baldwin Beach and Emerald Bay feature some of the most gorgeous shorelines in all of Lake Tahoe's seventy-two mile perimeter. The bay is surrounded by towering conifers rimmed by a sandy beach. Emerald Bay may be one of the most photographed areas in Northern California. Fannette Island, located in Emerald Bay, is the only island on Lake Tahoe.
Due to the large amount of snowfall this area receives in the wintertime, it is not surprising the summer season doesn't usually start until July. During the summertime you will encounter weekend crowds at Lake Tahoe. The best time to kayak Lake Tahoe is before or after peak summer season, when the crowds are gone. After Labor Day, there should be several weeks when you can paddle before the first snowfall.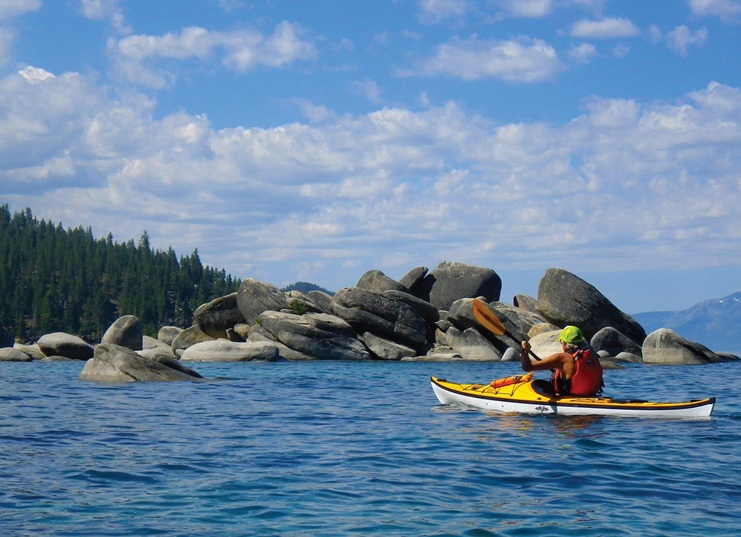 There are abundant scenic areas to paddle throughout Lake Tahoe's 72 miles of shoreline. You can explore the crystal clear water along Lake Tahoe's eastern shore where you'll feast your eyes on protruding boulders above the lake's water surface that make intricate mazes, with narrow passageways through which to navigate. The lake's bottom in this region alternates between glittering white sand and granite boulders. You can paddle along the shoreline on your own or join a tour. Kayak rentals are offered by several companies. Paddlers who own kayaks can launch at numerous locations around the lake.
If you plan your get-a-way during the summer season, you need to launch early. Better yet, come on a weekday, though Tuesdays and Wednesdays can also get busy. If you launch from D.L. Bliss State Park, you can paddle north towards Meeks Bay or south to Emerald Bay. The southern route offers a more scenic shoreline, with water so blue that it doesn't seem real.
D.L. Bliss State Park is situated between the north and south shore. It easily qualifies as one of California's most beautiful parks. D.L. Bliss Park is located 17 miles south of Tahoe City on Highway 89, a couple of miles north of Emerald Bay. The park borders Emerald Bay State Park to the north. It is known for its deep blue waters and beautiful rock formations. You will be able to explore the rocks near the shore and the views down into the waters are sure to provide ample photographic opportunities.
The campsites are fairly large, the parking is more plentiful than in many campgrounds, and the location is gorgeous. Once off Highway 89, the park's narrow paved road eases down two miles of steeply wooded terrain to the west shoreline. Even if you're not going to camp, the park provides a beautiful setting for a day's outing
Vehicles cannot enter D.L. Bliss State Park when the gate is closed. The camping season at the park ends in late September and after that, gates are locked to motor traffic. The road ends at Lester Beach, with day parking and an easy walk to the shoreline to hand launch. During peak summer months, the parking lot is often full at D.L. Bliss State Park and at Lester Beach. On a week day you'll have better luck finding a parking spot.
Emerald Bay is accessible by launching from Baldwin Beach, which is about twelve miles round trip if you paddle the entire bay. Baldwin Beach is the closest put-in to Emerald Bay, but there aren't any kayak rentals. The proximity to Emerald Bay and less developed shorelines makes it a popular tourist kayak spot.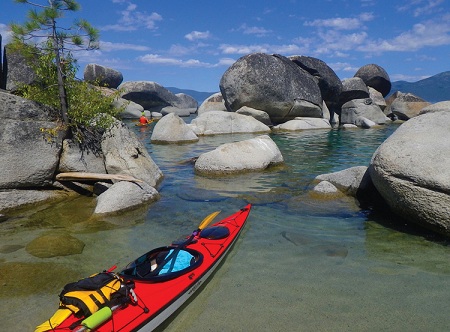 Emerald Bay offers boat-in camping on a first-come, first-served basis. The campsites are located on the north side of the bay at the site of the Old Emerald Bay Resort. There is a self-registration station on the shore near the dock for overnight tent camping. Emerald Bay Campground is on the south side of Emerald Bay, and is presently closed for repairs.
From the put-in at Camp Richardson, you can paddle along a rugged shoreline all the way to Emerald Bay. The area can be a bit crowded, especially on weekends around the Camp Richardson Marina.
Timber Cove also offers a pleasant area to paddle, but is a little less than "pristine" due to its central location. However, with kayak rental companies in the area, it is one of the most popular locations to kayak, especially for first-timers.
The U.S. Forest Service operates Meeks Bay Campground, which has easy launch access for kayaks. From Meeks Bay you can explore south all the way to Emerald Bay, if you would like a long distance paddle, or you can head north and paddle along the shoreline of Sugar Pine Point State Park.
On Lake Tahoe's northeast shore, Sand Harbor offers easy access to the unspoiled shoreline to the south, which features scenic coves of Secret Harbor (which is a nude beach), and Skunk Harbor. The northeast shore offers stunning views that takes your breath away.
Along the South shore is the Cave Rock launch access which allows you to explore the shoreline both to the south and to the north. The area to the north is especially nice with minimally developed shoreline and few people.
Whatever aquatic adventure you embark on, be sure to stay long enough to watch the sunset cast shadows over the lake's surface for a once-in-a-lifetime experience. Lake Tahoe can provide some of the finest paddling opportunities you will ever encounter in Northern California! It's a perfect choice for your next paddling excursion!
_____________________________________
Contributing Photographer
The stunning photographs above are by Patty Robbins.
Patty Robbins an avid alpine skier and paddler has lived and worked in the Lake Tahoe region for over 16 years. Patti, owner of Robbins Design is a freelance graphic designer specializing in design for the Internet and print, as well as a ski instr
uctor at Northstar and a hiking guide for the Tahoe Rim Trail.
Robbins Design strives for excellence with appropriate and innovative visual concepts, with a commitment to quality, consistency, and service while solving problems, completing projects on time and within budget.