Photo Credit Cheryl Wood
Spellbinding Ice House Reservoir
"Spellbinding" perfectly describes this mountain reservoir's terrain, as your eyes take in sunlit ripples glistening on the water's surface. Thick stands of conifer trees flank the shoreline, providing plenty of shady pullout access areas to relax on for a spell. Over the years, the gorgeous conifer forest and craggy mountain landscape surrounding Ice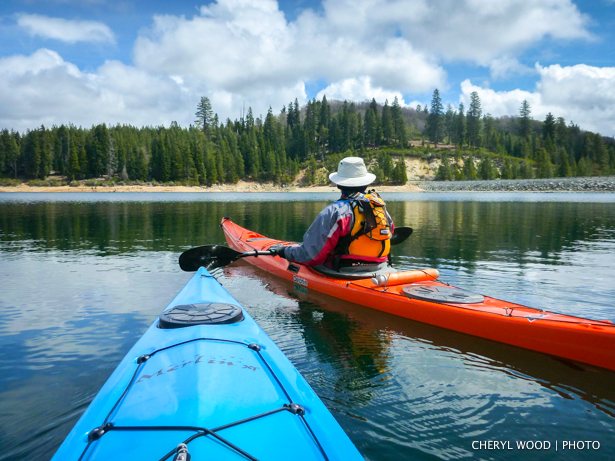 House Reservoir became known as the "Switzerland of California." With such a name it is not surprising that Ice House Reservoir provides a playground for outdoor sport enthusiasts. Whether your preference is canoeing, kayaking, wind surfing, hiking, or camping, you will find it all at this sparkling, magnificent clear water getaway.
Located 50 miles south of Lake Tahoe and 70 miles northeast of Sacramento, in the Eldorado National Forest, at nearly 700 surface acres and 10 miles of shoreline, Ice House isn't the largest reservoir or lake in the area; nearby Union Valley Reservoir dwarfs it at 2,412 acres.
The wide range of outdoor recreational activities to enjoy at Ice House Reservoir, and the handful of other beautiful lakes and reservoirs within close proximately to each other in this area, make it a popular summer vacation destination and an ideal paddling retreat. After a leisurely paddle, take a hike or bike on the Ice House Mountain Bike Trail, carved into the rolling hills parallel to the road into the camp. The trail stretches for 3.1 miles along ridge tops and rugged northern slopes, and boasts views of the reservoir and the Crystal Range.
Fishing on Ice House Reservoir is a must as the reservoir is home to an abundance of trout. Kayak anglers are drawn to Ice House because the water is clean and fish (mostly rainbow and brown trout) are planted regularly. Kayak angling enthusiasts will find many out-of-the-way coves and miles of shoreline to fish for a trophy class brown trout, and also rainbow trout and kokanee salmon.
One of the reasons you'll see numerous paddlers on Ice House Reservoir in the mornings, and windsurfers in the late afternoon, is due to the gusty winds that frequently occur here by midday. The reservoir is fed from the Sierras, and just as its name implies, it is "ice" cold. If you plan on windsurfing, you may want to wear a wet suit. During the wintertime, the reservoir is inaccessible due to heavy snowfall.
For those less interested in active sports, Ice House Reservoir is still a perfect place to relax and enjoy breathtaking scenery, while sitting by a crackling fire. The campgrounds in the area, open from May 15th to October 15th, weather permitting, can provide the perfect vacation for any family or group. Several campsites at Ice House are situated right on the shoreline, while others are set back just enough for plenty of shade from towering ponderosa pines, cedars and Manzanita bushes.
The Ultimate Paddlers Guide to 264 Extraordinary Flat Water Destinations in California. BUY HERE

Kayaking California's Flat Waters is the most beautiful and informative resource available for California paddling enthusiasts.
One side of the campground offers 'lake-front' property offering gorgeous and spectacular views of the lake and wilderness on the opposite shore.. There are some very nice walk-in sites with access to the boat dock that feels like one's own private, but small beach. A nice option to put in your kayak or inflatables is offered with these small ports.
So select your favorite spot and watch the day fade away over the towering pine forest, knowing that new paddling adventures await you each morning. Ice House Reservoir's stunning views and blissfully remote location create the perfect paddling retreat.