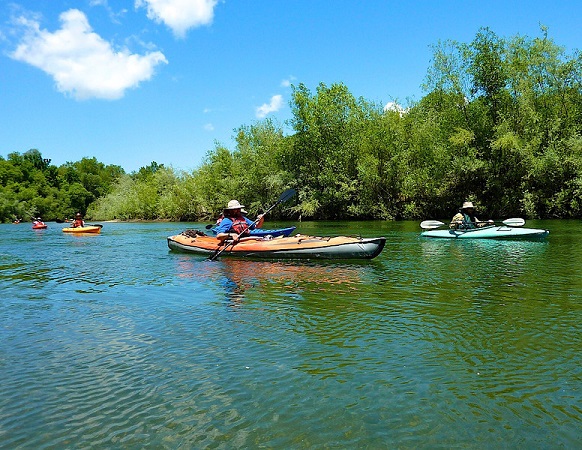 Photo Credit Sam Mills
Paddling Down the Russian River
Prepare for a wide variety of enjoyable adventures when you embark on a remarkable paddling journey down the Russian River in Sonoma County. From hiking thro
ugh the magnificent redwood forests, to kayaking along the Russian River, to watching whales at the spectacular Sonoma Coast, the Russian River area has so much to experience and enjoy.
The Russian River is fed by the Van Arsdale Reservoir on the upper Eel River. The river begins five miles east of the town of Willits in Mendocino County and travels south past the town of Healdsburg before turning west where it eventually ends at the Pacific Ocean. While enjoying a leisurely paddle along the tranquil waters, take in the picturesque scenery and surrounding flora. Mild Class I currents, sandbars, and riffles need to be negotiated as the river snakes its way through beautiful stretches of forests, pastures and valleys.
As you paddle along the exquisite landscape surrounding the banks of the river, you will encounter miles of unspoiled wilderness with an abundance of wildlife including nesting bald eagles. Keep a look out for other local wildlife such as deer, turtles, river otter, snowy egrets and blue herons feeding by the shore. Stop along the way at a riverside beach, for a bite to eat on the water's edge, or take a swim and play in the refreshing water. The water temperature is usually very comfortable throughout the summer season.
As you navigate further along into the lower Russian River, don't be surprised if a pod of seals swims up to your kayak. This section of the river is wide, deep and mostly flat water, with large islands and an open landscape. At the rivers end, enjoy a stroll on a sandbar that banks both the river and the coastline.