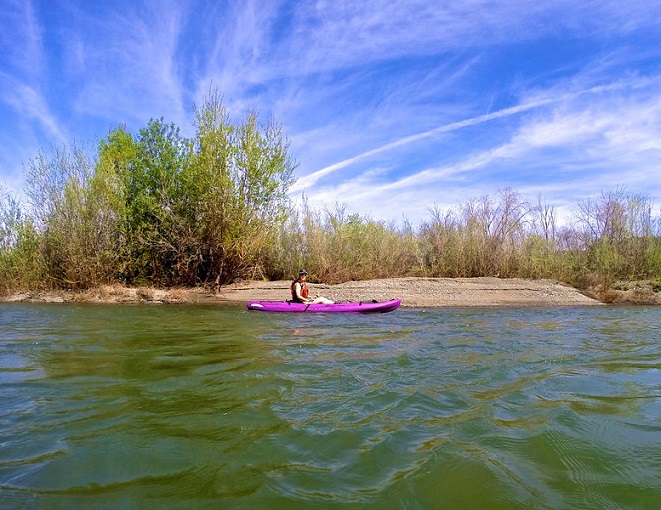 Photo Credit Sam Mills
Paddling Down the Russian River
The Class I section of the Russian River runs for over 50 miles, beginning below the town of Healdsburg and extending to the Pacific Ocean at the town of Jenner. When paddling on any river, be mindful of possible white water conditions.
The Russian River also has a few Class II and III rapids. The Class III rapid run above Cloverdale begins just above Squaw Rock. Always make sure to check the river's CFS f
lows before you depart, especially after storms. (CFS=cubic feet per second) Although the Russian River is moderately easy, during flood stage it can be very challenging to paddle. 200-500 CFS Class I flows are best for novice and intermediate paddlers.
The Russian River flows throughout the winter. In winter months, heavy rains can cause large torrents of water and swift currents. During storm runoff the Russian River can be as high as 10,000 CFS. By late spring, flows normally taper off, and the river canyon would run dry in summer if it were not for the water supplied by the Van Arsdale Reservoir on the Upper Eel River. In April, water is redirected from the Van Arsdale Reservoir to the Russian River Valley to irrigate the multitude of vineyards throughout the Alexander Valley and along the Russian River.
There are several places along the 50 mile stretch to put-in and take-out for Class I paddling on the Russian River. You will need to arrange for a shuttle driver to drive you back to the original departure point. Several kayak rental stores run shuttles to various locations along the Russian River. Canoes and kayaks can also be rented. No permits are necessary to paddle the Russian River, but be respectful of private riverside property and use only the designated public put-in and take-out areas.
The warm, calm water and air temperature in the summer attract many paddling enthusiasts. Though usually mild in the mornings and early afternoons, conditions can vary with possible fog or light winds. The chances of you taking a tumble into the river are slim, but it's always best to be prepared. Bring a dry bag with a dry change of clothing, just in case your clothes get wet. Layered clothes also are a great idea, as the air will warm up by noon.
Don't forget to bring along your camera! Chance discoveries while paddling the Russian River are one of the enjoyments that are bound to leave a lasting smile on your face. Beautiful wildlife and nature is within your reach, and the images you'll bring home will provide beautiful memories for a lifetime. If you bring your desire to commune with nature, and a willingness to explore, you're all set for the paddling adventure of a lifetime at the Russian River!