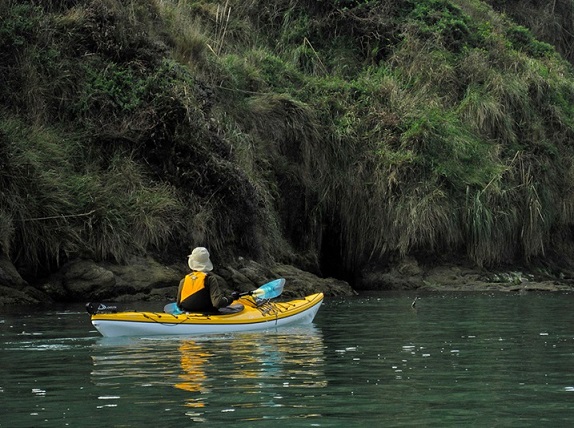 Photo Credit Lyrinda Snyderman
Bodega Bay is a glittering emerald jewel in the heart of Northern California's Countryside
Bodega Bay is tucked away in Sonoma County. Bodega Bay is a glittering emerald jewel in the heart of Northern California's countryside, along the spectacular and beautiful
Sonoma Coast, just 65 miles North of San Francisco. Bodega Bay is really the place to go for people who love to be outdoors. The beauty of Bodega Bay is that it is so serene and offers some of the best kayaking north of Monterey, California. This picturesque bay is one of California's best kept secrets. The bay invites visitors to indulge in fishing, canoeing and kayaking, swimming, SUP boarding, or just relaxing in the sun.
In addition to some of the finest kayaking and fishing opportunities, Bodega Bay offers some of the most remarkable views in the area. The view from Bodega Bay is best described as "breathtaking." With its extensive shoreline, pleasant climate and an area of slightly over 4 square miles of water to paddle, Bodega Bay is a utopia for visitors who seek out its recreational water sports. Kayaking is the major draw, but SUP boarding, fishing and camping are a few of the many recreational possibilities. Paddlers can enjoy a 4 mile flat water loop inside the harbor, or play in the surf on a well-protected stretch of sandy beach.
This area experiences warm and dry summers, and like
much of the California coast, summer afternoons are often cool and windy (and sometimes foggy) as winds blow in off the ocean. Before venturing out, paddlers should remember that weather can be unpredictable. While summer temperatures may reach 80 degrees, the daytime air temperatures can get cold and damp. It wouldn't be a bad idea to make two trips here - one in the spring/summer and one in autumn. The difference of the seasons brings opportunities that the opposite doesn't afford, and if you want a full experience of the area, you should make an effort to try both.
Bodega Bay offers a multitude of outdoor activities for visitors. With an abundance of opportunities for adventure, from wilderness hiking trails to world class fishing, you are sure to find an activity to your liking. The region is a dream for people who love to be outside. At an elevation of 56 feet, the bay is the favorite of locals and tourists alike. There are several public boat launches, swimming beaches, camping and picnic areas to enjoy as well.
Open year round, many people come to escape the cities and relax on the water for a day's sightseeing and play. You can spend the day or just a couple of hours paddling around Bodega Bay joined by harbour seals, rays, and otters. Birdwatchers will take pleasure viewing a variety of birds, including shore birds, pelicans, cormorants, seagulls, coots, and ducks.
Fishing is definitely one of the favorite activities on the bay. Kayak anglers have plenty of space to enjoy their particular brand of recreation. If you fish, this is good news, because there is usually no one to disturb you. Fishing is so rewarding at Bodega Bay one may think it was built just for casting a line into the water. A boat ramp located at Westside R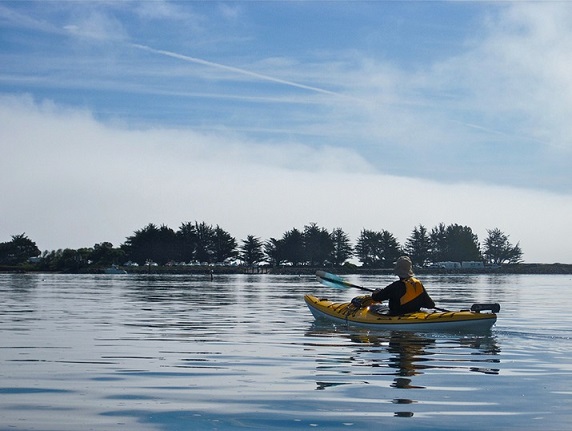 egional Park will get your out on the bay where the fish are always biting. Saltwater salmon, rockfish, shark, crabs, and lingcod are the main species in the bay. If you don't have a kayak, you can rent one from Bodega Bay Kayak Rentals 1580 East Shore Dr Bodega Bay 707 875-8899.
Public ramps are available at Doran Regional Park, Westside Regional Park and Porto Bodega Marina in Bodega Bay. You can put-in at Bodega Harbor and Bodega Bay, which is the ocean bay off Doran Beach between Bodega Head and Tomales Bluff. Both are easily accessible at the harbor mouth. The put-ins are separated by only 0.2 mile of water, but they are 8 miles apart by road. One is at the North Jetty of the Bodega Harbor mouth, at Doran Park Regional Park, and the other at Campbell Cove. Campbell Cove is located just inside the harbor mouth, sheltered behind the inside corner of the South Jetty.