Photo Credit Lyrinda Snyderman
Bodega Bay is a glittering emerald jewel in the heart of Northern California's Countryside
Beaches along the coast have publicly maintained access trails, so one could potentially launch from anywhere. However depending on the surf, it could be difficult to get past the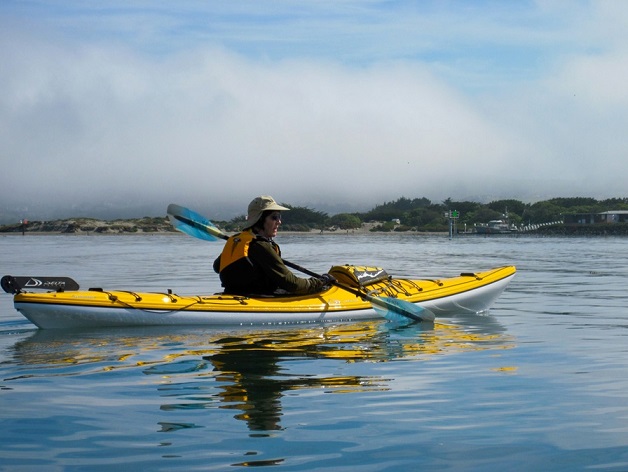 breakers and some of the access trails are fairly steep. Tomales Bay opens into the Pacific at the southern end of Bodega Bay in Sonoma County. Much of the area near the mouth of the bay is shallow and the water frequently is rough. The entrance bar is dangerous. The combination of tide, weather, and a shallow entrance bar can be hazardous to any boat. There may be little warning of the first breakers, as they sometimes develop in a calm sea from gentle swells.
The U.S. Coast Guard maintains a station in Bodega Bay Harbor at the northern end of Bodega Bay. For assistance and search-and-rescue purposes, the Coast Guard monitors Channel 16 (156.8MHz) VHF-FM. The Coast Guard station telephone number is Ph:707 875-3596.
Hiking is another great way to explore the area. You can hike into the solitude of several wilderness areas. If you prefer something a little less strenuous, there are picnic areas, wildlife viewing sites and scenic byways are within easy driving distance of the bay. Go for a short drive to Bodega Head, part of Sonoma Coast State Beaches.
The bay is a favorite among the people who live in Sonoma County, but it is also a day trip from the city of San Francisco. After paddling Bodega Bay, head back to Westside or Doran Regional Park for a relaxing evening of camping under the stars. Watch the sunset cast shadows over the bay for an once-in-a-lifetime experience.
All in all, Bodega Bay is a spectacular setting to enjoy all of the wealth of outdoor activities and sightseeing. Bodega Bay will leave you with lasting memories of breathtaking views of rock outcrops, rolling hillsides and sandy beaches. A trip to Bodega Bay will agreeably fill your memory book. If you've never been here, you should. So make a stop at Bodega Bay It's a nice little quiet spot for paddling.