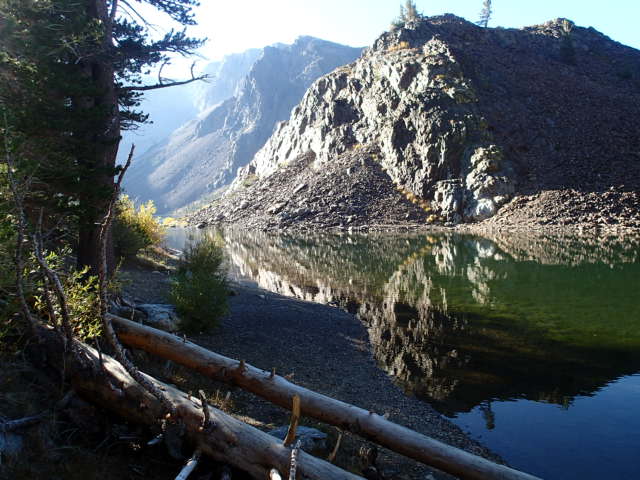 Photo Credit Scott Shaw
Ellery Lake - A High Elevation Kayaking Experience!
Not all of the highlights lie within Yosemite National Park. Ellery Lake is one of them.
Ellery Lake is one of the most picturesque lakes situated outside the eastern entrance of Yosemite National Park on Highway 120. Set in Upper Lee Vining Canyon, just miles from Yosemite National Park's east entrance, Ellery Lake offers outdoor enthusiasts breathtaking alpine scenery, outstanding kayaking and fishing opportunities, and a chance to catch a glimpse of Ellery Lake Falls.
It's nearly impossible to miss Ellery Lake on the drive up the Tioga Pass Road; its beauty will stop you dead in your tracks. Ellery Lake is located about an hour north of Mammoth Lakes, six miles west of Lee Vining. It is also just around the corner from the equally stunning Tioga Lake and Yosemite Valley where the breathtaking Ribbon and Bridalveil waterfalls and the magnificent El Capitan and Cathedral Rocks are located.
For those who prefer paddling remote destination, with fewer crowds, camping creek side, ample fishing, and access to Yosemite National Park, this is the perfect getaway for you. Ellery Lake rests at an elevation of 9538 feet, and is surrounded by majestic mountains, and groves of towering pine trees. Due to the high elevation, the best time of year to enjoy camping and paddling at this small 50 surface acre, natural lake, is from early mid-May to early October, depending on the early or late snow fall and road closures. Highway 120 is subject to winter closures.
In addition to excellent kayaking opportunities, Ellery Lake provides a wide range of recreational activities, including fishing, climbing, photographing, camping, wildlife viewing and hiking. After you have completed the short leisurely paddle around Lake Ellery, there are some fabulous hiking trails right at your fingertips with the beauty of the Sierras that provide eye candy along the way. There's no official trail around Ellery Lake, but hikers can make their own way.
The 120' Ellery Lake Falls is a picturesque hike up Lee Vining Canyon from the sagebrush scrub of the Mono Valley to the High Sierra meadow at the park's Tioga Pass entrance. Ellery Lake Falls drops 120 feet from Ellery Lake, along Lee Vining Creek. The view from the road delivers the best advantage point for photography opportunities.
Kayak fishing at Ellery Lake offers anglers a chance to catch Eastern Brook, German Brown, Rainbow, and Cutthroat trout. The lake is regularly stocked with 11"-12" rainbow trout. Brook and brown trout also make occasional appearances. The fishing here is remarkable, both from shore, as well as from on the water in a kayak.
Ellery Lake's awe inspiring scenery, sparkling cool waters, and close proximity to Yosemite National Park make it a remarkable kayaking and camping destination. The rustic walk-in campsites are located along Lee Vining Creek, about 100 yards from the lake's shore. The 12 campsites are on a first-come first-served basis. Of the twelve available sites, about half are located on the creek. It can be a little more strenuous to carry your gear to the walk-in campsites at Ellery Lake Campground, but it's worth the effort. The campground amenities include pump water, fire ring/ grill, picnic tables, and pit toilets.
Ellery Lake is located on Highway 120 just outside of Yosemite National Par. To get there from Mammoth Lakes, take Interstate 395 north 25 miles, and then turn left at Highway 120/Tioga Pass Road. Continue driving for 9 miles to Ellery Lake.
So what are you waiting for? So stop by, and have a kayaking experience on the east side of Yosemite! It is truly a paddler's paradise.