Photo Credit Steve Stotter
Sonoma County's Hidden Treasure: Estero Americano
Begin or end your day with an inspiring sunrise or sunset as you paddle on the serene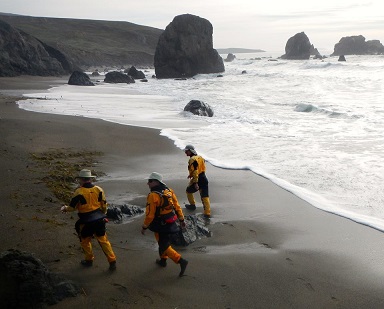 waters of the Estero Americano, while relishing the natural beauty that surrounds you. Explore the diverse natural wonders of 127-acres of the Estero Americano estuary that borders Sonoma and Marin Counties. Bring your camera so you can capture the spectacular ocean vistas and stunning views of Bodega Bay to the north and Tomales Point to the south. Gently rolling hills, flourishing with flora and fauna, rise to meet your gaze, as you paddle from Valley Ford all the way to the ocean and back, which is a twelve mile round-trip.
Estero Americano has its own multi-faceted personality, from winter green hillsides dotted with grazing cattle to the astonishing variety of birds that call the estuary home. Estero Americano offers incredible panoramic views, dazzling sunsets, and a peaceful paddle. Spring blooms host lavish wildflower displays of color. It's never too early to dream of spring flowers peeking out of the ground and scattering color on a gray winter.
Estero Americano is a blend of fresh and salt water where narrow out-flowing streams join together, flowing west to the windswept bluffs of the Pacific Ocean between Dillon Beach and Bodega Bay. The tidewater meanders wide and open between the cliffs and rolling foothills.
This exceptional kayaking retreat, accessible year-round, twists through magnificent countryside and ends at the mouth of the Estero Americano, where the waves of the Pacific Ocean break against deserted shores. The spring, fall, and winter seasons offer a peaceful outing to suit all levels of paddlers. The mouth of Estero Americano opens during rainy winters causing the small streams to widen as it floods. In the summertime the estuary narrows, especially during drought years.
Enjoy the many sights and sounds that accompany your tranquil escape. Wildlife abounds in this spectacular setting. The salt marsh area offers superb bird watching for red-tailed hawks as they take flight. Raptors, shorebirds, and other waterfowl migrate south in the fall to the California coastline to seek foraging sites for the winter.
While this is a truly unique destination to paddle, you need to use caution for submerged tree stumps and rocks hidden beneath the water's surface, and watch the strong outgoing current near the mouth where the Estero meets the ocean. Also, the steep put-in can be muddy and slippery. Knee high rubber boots are advisable. Unless you're familiar with tidal waters, it is advisable to paddle with someone who has prior kayaking experience here.