The Lower Feather River Craves for Discovery
This section is the outflow from Thermalito Afterbay, an off stream reservoir connected by pumped storage facilities to Oroville Dam. Paddlers should use caution for releases from the Afterbay to the river which can cause turbulent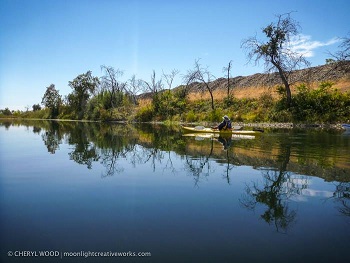 waters across the entire channel when the outflow exceeds 5,000 cfs. High releases may occur any time of year, but most of the river has only a few gravel bars and a couple of snags to contend with.
For those who prefer a longer paddle, starting just below the fish barrier dam you can paddle the Feather River for 35-40 miles to the convergence of the Sacramento River. Below the fish barrier dam, the river winds through Oroville Wildlife Area preserve, with its lush woodland habitats. The preserve borders 10 miles of the Feather River. Flora and fauna are in abundance in this 11,869 acre preserve that lies just outside the city of Oroville. The water flow is usually gentle, with little currents that even a novice kayaker can enjoy. Reliable flows provide year-round paddling opportunities.
The preserve is also a great place to photograph the beautiful scenery and wildlife. The shallow draft accessibility allows a paddler an advantage in viewing wildlife in their natural habitat. The preserve is home to at least 35 species of mammals and 177 species of birds, including wood ducks, coyote, badger, fox, bobcat, porcupine, osprey, white-tailed kite, egrets, woodpeckers, and warblers.
Bring along a snack, plenty of water and your camera to capture the wildlife and scenic wonders! The beautiful images you'll bring home will provide beautiful memories for a lifetime. After you've spent the day paddling down the Feather River, you'll find that leaving the rippling blue waters and gentle rolling hills to go back home is something best left for another day.
Canoes or car-top boats can be launched in several spots along the river. When you reach your take out you will need to make arrangements to shuttle your kayak back to your vehicle.
Montgomery Street Ramp Put in
Take the Montgomery St exit off Hwy. 70. Take a left at the light and go to the end of Montgomery Street. Continue through the parking lot to the boat ramp and parking at the end.
Bedrock Park is an alternate put-in. Take the Montgomery Street. exit off Highway 70. Take a right onto Montgomery Street and then turn left at the first light which takes you to the park.
Take Out: The road is unmarked but there is a sign for the Wildlife Refuge as you turn off Hwy. 70. After the road turns to follow the river it drops down a little hill and then climbs back up where there is ample space on the right for parking. The river access is not obvious but it is there.
Oroville State Wildlife Area - 945 Oro Dam Blvd. W., 530-538-2236
Access is via Highway 162 to the headquarters entrance, about 1/2 mile west of Highway 70, or at Larkin Road.
Access for Thermalito Afterbay Unit is Wilbur Road at Hwy 162. The Thermalito Unit is five miles west of Oroville, east of Highway 99. Shooting range access is via Rabe Road.
USE CAUTION WHEN PADDLING ON A RIVER:
As fun and exciting as it may be to kayak on a river, don't forget that paddling on a river entails an amount of risk due to the elements of nature. Rivers have different behaviors throughout the year. River flows can be impacted by runoff from storms, snow melt and by the daily ebb and flow of the ocean tides. What once was flat water can quickly become Class I to Class III rapids after a recent storm, which is best left to paddlers who have the skills to maneuver around rocks, and strainers and who know how to read water. The drought in California has also affected the water level on many rivers in California. Paddlers should stay up-to-date on the conditions that affect paddling a river, such as river height and discharge, tidal schedules, river flows and current weather activity. Call before departing for current water level conditions. When paddling on a river, always go with two people who are familiar with the river. Why two? In case something happens to one of them, you won't be left paddling down a river alone.