The minute you begin planning a paddling excursion you'll want to check out these four gems, located along a 14 mile stretch on Highway 158 on the June Lake Loop.
The June Lake Loop is a chain of lakes along Highway 158 connecting with State Route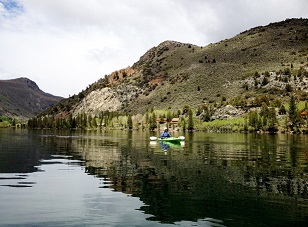 120 and US Highway 395. The loop travels along a winding road overlooking colorful jagged mountains and four of the most picturesque lakes in the Eastern Sierra region of Central California. From the southern entrance, the loop leads you past June Lake, Gull Lake, Silver Lake and Grant Lake in that order.
At sunrise spectacular reflective views of massive mountain peaks are cast onto the calm, glass-like water surface of June Lake. Why anyone would prefer to paddle at another time of day is beyond me. June Lake is situated in an exceptionally beautiful region, in the High Sierras. It is the second largest lake of the four lakes located on the June Lake Loop and it is sure to capture the hearts of all who visit this natural wonder.
It's no surprise why June Lake is a top kayak angling destination with the breathtaking surrounding views; the perfect number of miles of shoreline distance for paddling; and the large amount of rainbow trout planted by both the Department of Fish and Game and Alper's Ranch hatcheries each year.
The "Oh Ridge" campground is located on the northeastern shor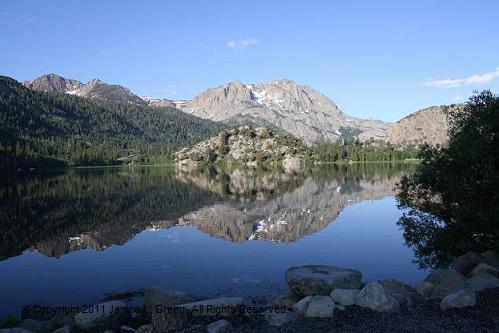 eline overlooking June Lake. There are148 tent or RV site with flush toilets, water, a full-service marina, groceries, a boat launch, boat rentals, a swimming area, fishing, boating, windsurfing, hiking and bicycling trails and sailing. Jet and waterskiing are not permitted. Be sure to call far in advance for reservations, especially if you plan a trip here on a holiday weekend during the summertime.
Gull Lake is a perfect rest stop after a full weeks worth of paddling the other gorgeous lakes in the vicinity. This small lake is encompassed by scenic mountain peaks and a forest of fragrant pines. It is used primarily by fishermen, fishing along the shore.
This picturesque little alpine lake may not offer much in the way of a long distance paddle. However, the awe-inspiring shoreline, minimal amount of boat traffic, and a quiet atmosphere provide the perfect environment to spend a peaceful afternoon floating amongst an array of scenic splendors.