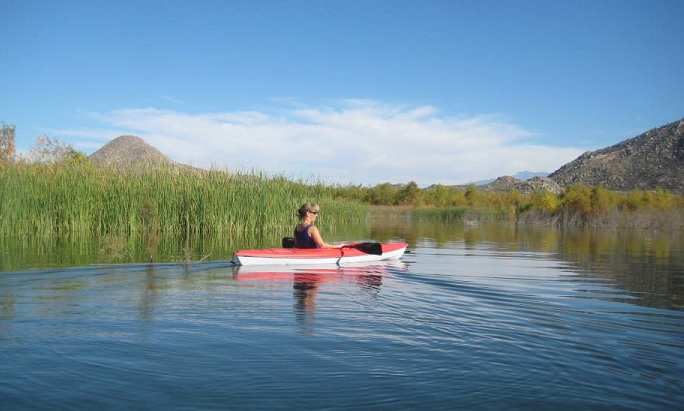 Photo Credit Gina Severance
Kayak Angling at Lake Perris.
There's no place I'd rather be than paddling a gorgeous lake when not a ripple mars the water surface. Ok so Lake Perris isn't what I consider a gorgeous lake, but if you arrive as the sun is making its way over the low foothills, and as the early morning mist hovers jus
t above the water surface, the lake does have a mystical beauty about it.
Little did I know when I began paddling over 20+ years ago, that kayaking would become one of my life's greatest passions. Ever since they reduced the number of powerboats allowed on the lake and placed a 5 m.p.h zone around the around the main island due to the lower water level, it made it the ideal time to kayak and fish at Lake Perris.
I still recommend being on the water early if you intend on catching one of those legendary whoppers, mainly because of the gusty winds that commonly occur at this destination by 10:30 to 11:00 a.m. The real truth of the matter is you're more likely to nab yourself a dinky size bass which has taken over Lake Perris in the past few years.
The Department of Fish and Game stocks the lake with a huge number of trout in the 7" to 12" range, (72,000 to be exact), which provide excellent opportunities for trolling also, which was what I was planning to do until I arrived at my "Hot Bass Fishing Spot". Having paddled Lake Perris for numerous years, I saw where the fishermen hung out, so I had several "spots" in mind where my plan of attack will be to catch a meaty size bass. Meanwhile, I planned to troll for trout for a few miles, then attempt to nab one of those world record bass that have been caught at Lake Perris weighing in at 17 pounds.
Ok so a girl can dream, but catching a giant size fish is not what I dream about. The reality is I'd be just as happy catching myself a small size critter as I would be hooking a honking size one, but I imagine it would be a bit more thrilling for the guys who think " the bigger the better" if I posted a photo of a whopper size fish…than a dinky one.
Since I haven't perfected the art of holding onto a slippery sucker, (and my rod and paddle) with one hand, while trying to unlatch my hatch cover and grab my camera for a Kodak Moment, I've decided to I wait until I land myself a whopper, (since I plan to catch and release), because I don't want to kill a bunch of fish in the process, (or lose my camera or rod,) just so I can take a photo of it for a few "That'a Boys" and to tell you the truth I've grown a tired of reading "WOW", "Geez", "WTG", "Woohoo" and "OMG". There's only so long you can read about the same thing over and over again until it begins to sound a little phony.
It was only about 55 degrees when I arrived and just a little hazy but within moments this huge fog bank engulfed the area, so much for arriving early. I spent the next hour-and-half waiting for the fog to burn off talking to a rather a charming man. According to the weather report, I was anticipating sunny 85 degree weather, so all I had on was a light windsuit and my bikini underneath. I was shivering by the time it cleared up enough to unload my kayak and put my tootsies into water at around 8:15 a.m. Lake Perris is one of the few lakes in the area that allows swimming. I usually swim after I complete paddling at Lake Perris – but any thought of taking a swim after I finished paddling quickly dissipated from my list of plans for the day.
There were very few boaters on the lake yet to disrupt the golden silence due to the early morning foggy conditions. As I was paddling at a good clip to try to warm up, my mind drifted off while taking in the peace and serenity of being out on the water. Thankfully, the sun came out a half-hour later.
The Ultimate Paddlers Guide to 264 Extraordinary Flat Water Destinations in California. BUY HERE

Kayaking California's Flat Waters is the most beautiful and informative resource available for California paddling enthusiasts.
Near the dam that runs the entire length along the western shore, the bow of my kayak suddenly got yanked to the side, at which time I remembered I had a line out. My first thought was my hook got hung up on something, but after I grabbed hold of my rod, and turned my boat around, I realized I caught a fish – well at least I did for about 60 seconds, if that long. Just as I began reeling it in, suddenly the line went slack, AGAIN which was occurring a little too frequent for me, so I decided to stop trolling and wait until I could focus on just fishing. I am beginning to think turning around causes slack in the line, which is allowing the fish to wiggle free when I am trolling.
As I was within eyesight of one of my "hot spots" my excitement rose when dozens of huge fish were slapping the water, like sacks flour being dropped from a roof. The sound was explosive because they were so enormous. I suspected they were most likely carp due to the size of them. A few minutes later, as I paddled by two men in one of those fancy supped up bass fishing boats, you should have seen their look of surprise when I whipped out my fishing rod and tossed out my line not too far from them…This girl's no dummy. They had a fishfinder, and sound travels quite a distance on a lake so I could hear when one of the men said something about look at all of the fish on the radar screen, and she fishes too!….
It helps to be observant and to have good hearing! Sure enough I landed myself a fish within minutes. I didn't even recognize what species it was to tell you the truth. If I had to guess I'd say it was some kind-of "sunfish". In fact, that's all I caught within the next hour were two small bass and a sunfish, but it did make me smile when the men in the fancy bass boat eased their way over a little closer to where I was after I left, when they weren't getting any action! I was almost tempted to ask them if they wanted my fish when I saw their look of bewilderment when I was tossing them back in, but I didn't want to embarrass them…or me since they were so small. Back in my mind I was kind-of hoping I'd catch one of those giant size carps I saw earlier.
It sure was nice with the 5 m.p.h. zone around the main island, but the water level was down another 50 feet, from last year, which made it even too shallow to paddle to most of my other "hot spots". After I was fishing for a while with no more nibbles, and it was beginning to look like a traffic jam on the water like the 405 freeway at rush hour I decided to head back in since the wind was beginning to pick up.
I relaxed for a while and ate lunch, then I took off to go back home. There's nothing more soothing to my soul than a peaceful day on the water!