Photo Credit Walter Bunning
Kayaking Morro Bay, "The Gibraltar of the Pacific"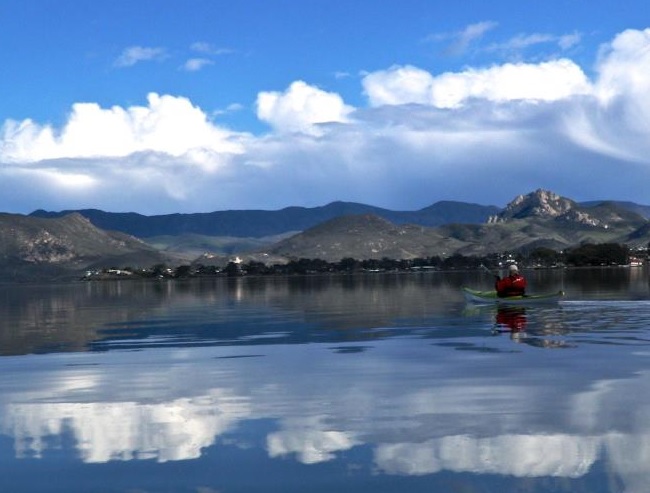 If you want to paddle starting closer to Morro Rock, you can launch at any tide level at Coleman Beach across from the three smoke stacks by the power plant. Knowledge of the tide will help you avoid getting stuck in the mud. Fast currents can make it difficult for you to return, especially if you are fighting head winds.
Kayak Anglers will love to bait a line and troll Morro Bay in search of sand bass and halibut. Many types of fish are abundant in the bay. The salmon and albacore fluctuate year to year, but albacore can add some sizzle when schools move into the area. In the spring, trolling with anchovies for salmon is very popular.
Once you experience the beauty of Morro Bay, you'll fall in love wi
th this magical paddling haven. Morro Bay is a picture-perfect paddling retreat for kayakers seeking outdoor adventures and a gorgeous natural setting. Located along scenic Highway 1 midway between San Francisco and Los Angeles, from its unspoiled wilderness to its outstanding scenery, Morro Bay is surely a must-see.
Located in San Luis Obispo County, Morro Bay is truly a sight to see. Morro Bay is one of the most scenic paddling getaways on California's Central Coast. You'll be amazed by the picturesque sights you'll feast your eyes on while paddling. It is nearly impossible not to be drawn to the panoramic views, diverse nature, an
d abundance of wildlife that make Morro Bay so beautiful. In addition to the wildlife, there are beautiful wildflowers from early spring to early summer. Kayakers flock to Morro Bay to enjoy the bay's deep blue waters and stunning scenery that make this such an unforgettable paddling experience.
< PREVIOUS PAGE