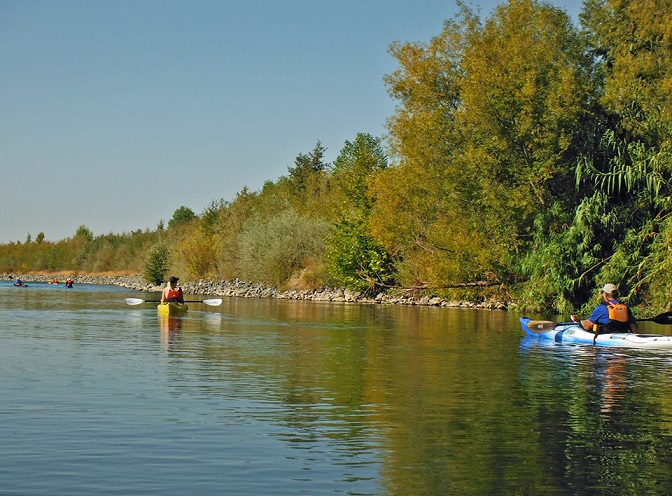 Photos by Jim Snyder
Sacramento River Brannan Island State Recreation Area
Kayaking is one of most enjoyable pastimes on the Sacramento River, presenting you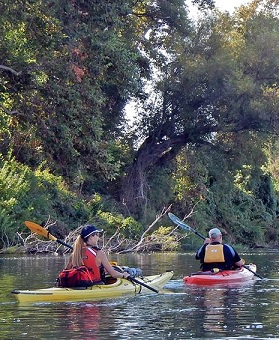 with the opportunity to view the river from its best vantage point, all the while enjoying a bit of peace and the option to stop wherever you choose for an impromptu dip in the refreshing water. As you paddle your way around the river's snaking 1000 miles of waterways, keep your eyes peeled for the migrating birds that are most populous in early spring and late fall, but are present almost year-round.
If you crave long distance paddling getaways, sprinkled with scenic coves along the way, this superb destination offers you endless choices. Surrounded by crystalline blue waters and rolling green hills, it's nearly impossible not to be drawn into nature as you navigate the river, obeying the call of the outdoors. The Sacramento River hosts a water trail system that allows paddlers to enjoy the stunning views, diverse nature, and wildlife that make the river a superb paddling retreat.
Dazzling vistas, deep blue skies and sparkling water draws paddlers to this remarkable destination from near and far. While you take in the scenery and tranquility around you, be sure to have your camera ready to capture breathtaking sunrises and sunsets, and magnificent landscape views. The surroundings provide extraordinary scenery, enveloping a stunning array of pristine waterways on the Sacramento River.
There are more than one thousand miles of intricate waterways to explore on the Sacramento River. It is the longest river in the state of California. The Sacramento River is fed by Lake Shasta and flows through northern California. After Lake Shasta, the Sacramento River slows down and picks up major tributaries on its way to the state capital of Sacramento.
The river meanders through oak woodlands, rolling hills, and open plains with views of Mt. Lassen to the East and the Yollo Bolly Wilderness to the west, where beaver, black-tail deer, river otter, grey squirrel and ring-tail cat are commonly seen. Low, rolling, grass-covered hills speckled with cottonwood and oak trees border both sides of this immense river, which has an endless number of scenic coves to explore.
When paddling on any river, be mindful of possible white water conditions. In the spring, the Upper Sacramento River includes nearly thirty continuous miles of whitewater, with class II to V rapids. The Upper Sacramento winds through passages of hidden beauty, especially sections where the river narrows through tight canyons and pauses in grottoes decorated with seeping springs and canopies of trees, cascading flowers and vines.
Brannan Island State Recreation Area draws paddlers to its calmer waters. The area is a maze of waterways through the Sacramento San Joaquin Delta, which lies northeast of San Francisco Bay. There are endless islands and marshes to explore with an abundance of wildlife habitats. Frank's Tract, a protected wetland marsh, is home to beaver, muskrat, river otter, mink and 76 species of birds. It is perfect for flat water scenic touring and photographing the abundant wildlife.
The Ultimate Paddlers Guide to 264 Extraordinary Flat Water Destinations in California. BUY HERE

Kayaking California's Flat Waters is the most beautiful and informative resource available for California paddling enthusiasts.
Kayaking is allowed daily all year, twenty-four hours a day with running lights at night. The Brannan State Park Area makes for easy flat water kayaking, canoeing, SUP boarding and kayak fishing.