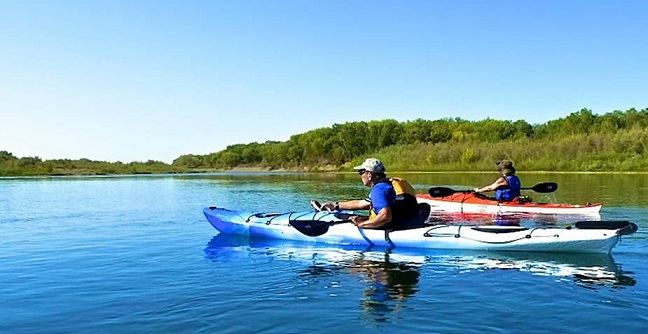 Photos by Jim Snyder
Sacramento River Brannan Island State Recreation Area
The river offers excellent kayak fishing for rainbow trout, but they can be finicky about what they will bite. If the water temperature is warm you may have better success trolling for trout than fishing with bait. The river's salmon fishery alone generates over $100 million annually, and more than 70% of the salmon caugh
t off California's coast spawn in the Sacramento River and its hatcheries.
The warm, calm water and air temperature in the summer attracts millions of aquatic enthusiasts a year. Jet and waterskiing, sailing and windsurfing are just a few of the water activities popular at the river throughout most of the year.

From June to September, the daytime high air temperature averages a pleasant 80 degrees, but it can climb into the 90s and low 100s in the summertime. It is cool and balmy most of the spring, winter and fall. Early morning fog is a common occurrence. The late fall, winter and early spring months are much slower paced, and offer some of the best kayaking and fishing opportunities of the year.

Because of year-round good weather and water temperatures that reach 75 degrees in the summer, the Sacramento River is an ideal location for a paddling excursion. During the warmer months, the river offers brilliant sunrises and sunsets, incredible sunny days, and hours of fun on the water.
The Ultimate Paddlers Guide to 264 Extraordinary Flat Water Destinations in California. BUY HERE

Kayaking California's Flat Waters is the most beautiful and informative resource available for California paddling enthusiasts.
The mild climate, sweeping vistas, and easy access make this a wonderful destination for watersports of all sorts, accommodating the experienced and the novice paddler as well. Whatever your fancy, you're sure to have a good time paddling the Sacramento River. If you're looking for fun and adventure, the Sacramento River delivers.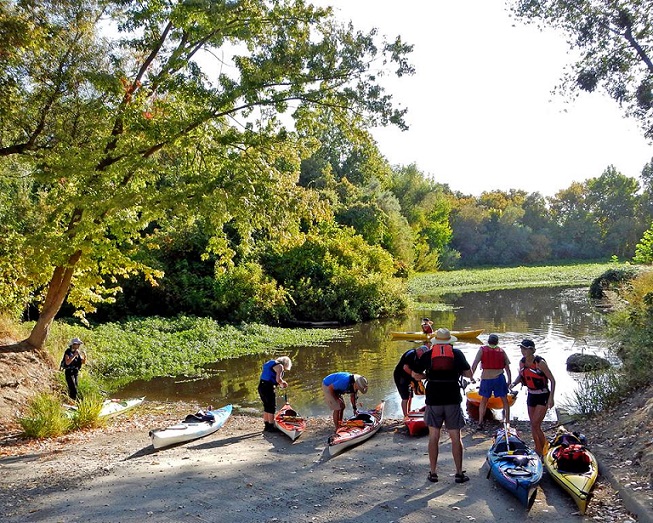 USE CAUTION WHEN PADDLING ON A RIVER:
As fun and exciting as it may be to kayak on a river, don't forget that paddling on a river entails an amount of risk due to the elements of nature. Rivers have different behaviors throughout the year. River flows can be impacted by runoff from storms, snow melt and by the daily ebb and flow of the ocean tides. What once was flat water can quickly become Class I to Class III rapids after a recent storm, which is best left to paddlers who have the skills to maneuver around rocks, and strainers and who know how to read water. The drought in California has also affected the water level on many rivers in California. Paddlers should stay up-to-date on the conditions that affect paddling a river, such as river height and discharge, tidal schedules, river flows and current weather activity. Call before departing for current water level conditions. When paddling on a river, always go with two people who are familiar with the river. Why two? In case something happens to one of them, you won't be left paddling down a river alone.