Watch the day slowly fade away over the soaring mountains, knowing that new paddling adventures await you each morning at this remarkable paddling paradise. Traveling on the Carson Pass Highway, you'll encounter some of the most amazing scenery imaginable, as you drive through the Eldorado and Humboldt Toiyabe National Forests.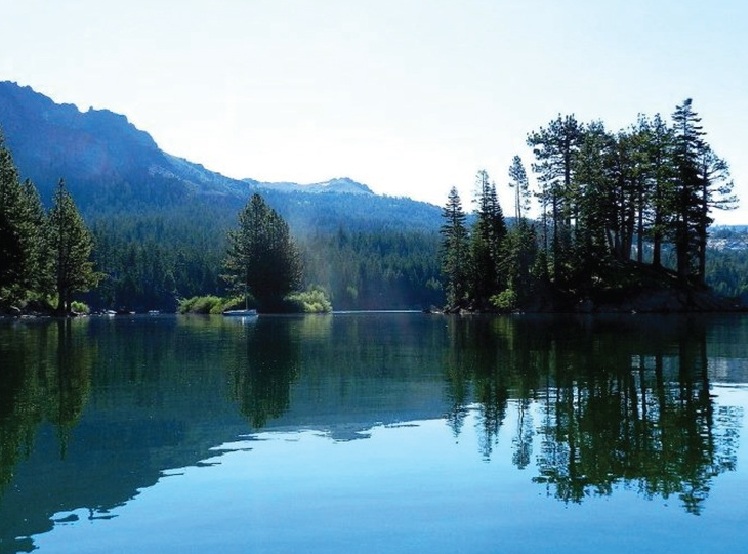 Silver Lake is one of the most visually dramatic areas in the entire state of California. Paddling enthusiasts can plan on nonstop adventure at this inviting getaway. During the early morning hours as the sun rises over the mountains, perfect reflections of the surrounding terrain are cast onto the lake's glassy water surface. The lake's mirror-like waters reflect the colors of the sky above, attracting photographers to its picturesque shores.
Silver Lake rests at 7200' elevation in the Eldorado National Forest. The lake spans 200 acres in a large granite basin surrounded by a forest of mixed conifers. Silver Lake has numerous exceptionally beautiful coves to explore and a diversity of topography between the upper and lower ends of the lake. An extensive array of rugged mountains covered with pine and fir trees can be seen while paddling this scenic splendor.
With access to the Mokelumne Wilderness and all the surrounding national forest lands, you'll discover an abundance of photographic opportunities of exquisite landscapes with astonishing vistas. You will witness panoramas of ragged volcanic skylines, lush green meadows, and dazzling timber-covered mountain sides as you glide along the lake's crystal clear, blue waters.
Several other pristine paddling destinations lie within close proximity to Silver Lake. Some of the cleanest, clearest water in the world flows from these wilderness watersheds.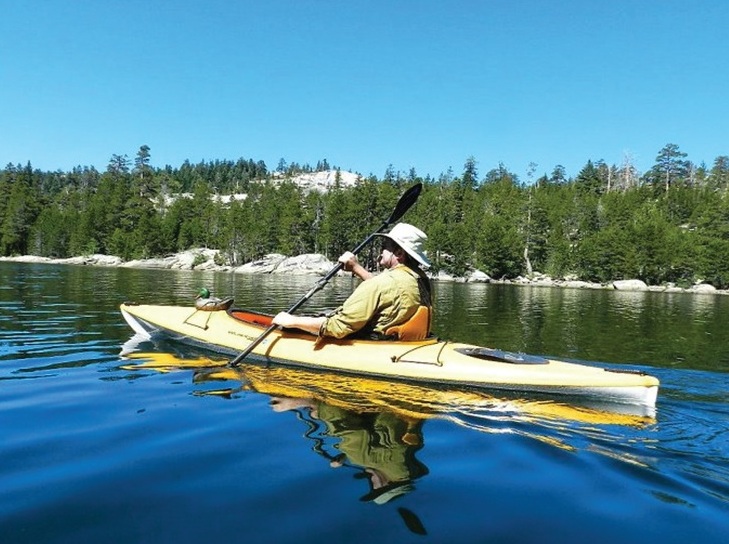 Kayak fishing is also a popular recreational activity at Silver Lake. From the late spring through early fall there are excellent kayak angling opportunities for trout fishing at sunrise and sunset. Silver Lake is a surprisingly fertile fishery, and supports an abundant population of brown and rainbow trout, as well as some mackinaw and brook trout. Anglers will be happy to know that Silver Lake boasts stocked populations of Rainbow, German Brown and Mackinaw trout, and is known to hold some trophy-sized Mackinaws.
This popular destination has a little of everything, from calm waters to perfect campsite settings to breathtaking scenery. Whether your idea of camping is sleeping under the stars, or snuggled in your motor home,
Silver Lake is the ideal retreat to spend a few nights or a week relaxing in nature. It is truly a paddling paradise. The enjoyment doesn't stop when you're done paddling this pristine alpine lake. After a pleasant paddle, you can hike around Silver Lake's six mile perimeter. The only diversion from the lake's shore is along the east side where the trail turns inland for a short distance.
Numerous other trails leaving the campground connect with the lake and swimming beaches. Silver Lake West campground is adjacent to Silver Lake East campground on the other side of Highway 88, and offers additional trails and access to the Silver Fork of the American River. A wide variety of terrain is available for hiking. Many of these hikes are gentle and short, and are particularly appealing to families with young children.