Photo Credit Etsuko Stone
< PREVIOUS PAGE
The Canoe & Kayak Wildlife Observation Program offers kayakers the guided wildlife viewing tours and interpretation paddles in the summertime. Be prepared to be s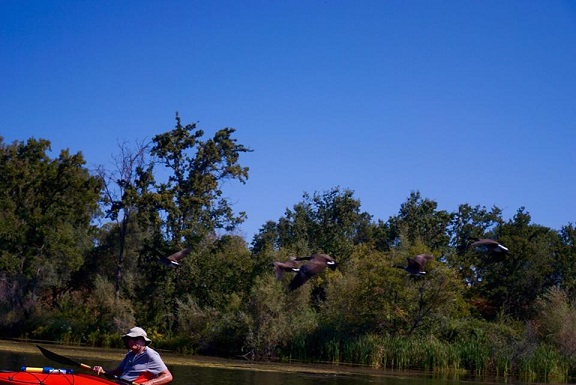 urrounded by gorgeous scenery, dense woodlands and breathtaking views. The program is open to all individuals/groups and all experience levels of paddlers. The guided tours run from June through September at designated times and offers a unique opportunity for paddling enthusiasts to enjoy a normally restricted part of the refuge. The guided tours are a relaxed paddle for viewing wildlife, and you will need to stay with the guide at all times.
The refuge also offers guided walking tours free of charge, seven days a week from sunrise to sunset. Throughout the fall to spring, several free staff led walks are offered on the weekends along seasonal wetlands in a normally restricted area. Walks meet at a designated location and time. October through May, reservations are not required. The hiking trail consists of a 2 mile (roundtrip) flat semi-hard dirt trail leading to a wildlife viewing platform overlooking managed wetlands. The path may be a little muddy if it's been raining or foggy. Although the viewing platform is lined with trees, there will be little shade as you walk.
If you're ready to experience everything Stone Lake National Wildlife Refuge Canoe & Kayak Wildlife Observation Program can provide you, then read on to discover more about this stunning body of water.
All paddling tours are free, and are approximately 3 hours in length. Reservations are not required but you need to arrive on time. Once the group departs, the access gate is locked. All participants must wear at all times a Coast Guard approved type II or III personal flotation device. You must portage your kayak or canoe 100 feet to the launching dock. The refuge does not provide any rental boats, so you'll need to bring your own.
Alcohol, pets, fishing, motorized watercraft, float-tubes, SUP
boards, personal inflatable rafts (inflatable & pedal kayaks are ok), water cannons, barbecue's, radios and remote controlled devices are not permitted. Swimming is strictly prohibited. There is little shade, so be prepared for being exposed to the sun and heat. A non-flush restroom is available, but there is not any running water so bring plenty of water.
Dogs are not allowed on the trails or on the water.
DIRECTIONS: From Sacramento, take Interstate 5 south to Elk Grove Blvd exit. At the end of the exit ramp, turn right (west) looking towards the grasslands. The exit dead ends in 300 feet at a large red and white striped gate that has a sign that says "North Stone Lake Unit". The tour guide will meet you right there and have everyone drive back to another location to unload their boats.
All scheduled trips meet at the refuge Elk Grove Blvd gate directly off west side of Interstate 5. Paddle tours do not meet at Blue Heron Trails or the office headquarters
Arrive at least 10 minutes early.
For tour schedule call: Ph: 916 775-4421
Refuge Headquarters
Stone Lakes National Wildlife Refuge Headquarters Office
1624 Hood-Franklin Road, Elk Grove, CA 95757
Ph: 916.775.4421
Email: stonelakes@fws.gov