Escape from the crowds at Lake Tahoe and take a side trip to this tranquil lake for a unique paddling experience. Spaulding Lake's dazzling vistas, deep blue skies and sparkling water draws paddlers to this remarkable destination from miles away.
Mother Nature seems to have tested her green thumb at Spaulding Lake, painting the scenery with deep emerald evergreens, vibrant blue skies, and soaring pines. While you take in the scenery and tranquility around you, be sure to take your camera to capture breathtaking sunrises and sunsets, and magnificent landscape views. The wilderness surroundings provide extraordinary scenery throughout a stunning array of pristine waterways.
Spaulding Lake is located in a region of astonishing beauty, at 5,014 feet elevation in the Sierra Nevada Mountains. A steep rocky shoreline around the entire lake's perimeter doesn't provide much in the way of pullout access locations, but there are many scenic coves to explore especially along the eastern shore. The western half of the lake also provides extraordinary views, particularly the point immediately south of Rim Powerhouse.
Spaulding Lake is an outdoor paradise of fresh blue water, awe-inspiring scenery, first class kayak fishing, investigative hiking trails, and so much more. Recreational opportunities at Spaulding Lake seem to have almost no end: you can kayak, canoe, bike, swim, hike, water and jet ski, sail, camp, and fish. This lake is an ideal destination for boating, kayaking, canoeing and water sports of all kinds.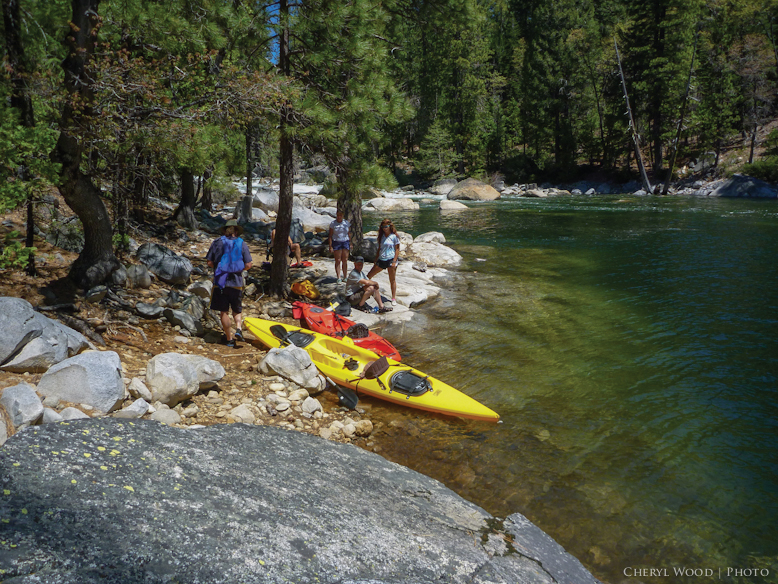 There are numerous lakes near Spaulding Lake. It's also close enough to Lake Tahoe that you can camp at the lake and visit Lake Tahoe by day. However, the recreational opportunities available at Spaulding Lake are more than enough to keep you busy for your entire outing.
If kayak angling is your way to relax, Spaulding Lake should be your destination. Patient anglers who rise in the early hours with the sun will be sure to catch their limit, while taking in splendid vistas. That is the reason why kayak anglers flock to Spaulding Lake every year. What better way to paddle the lake in your kayak, with your hook baited and your eyes on the lookout for the beauty that surrounds you.
The hot spots to nab a bass are in the arms around the lake in the springtime, but there's still good fishing action during the summer for bass, sunfish and bluegill. Whatever your fancy, you're sure to have a good time. Spaulding Lake is stocked with 15,000 rainbows and 5,000 brown trout along with Chinook salmon. Other species of fish at Spaulding Lake consists of mackinaw, smallmouth bass, and king salmon. Fishing during the spring and fall for brown trout is usually better than during the summertime. But there's still good trout action in the summertime. However, in the beginning of the year, just as the snow pack melts, is the ideal time of year to land yourself a big brown.
The Spaulding Lake Trail is a marvelous 5-mile moderate hike, taking you along the northern shore of the lake, following an old railroad-logging route. Perfect if you want to see amazing wildflowers in bloom from May to June.
All watercrafts are allowed, but late summer after drawdown begins can be hazardous due to exposed rocks. There are typically low water levels in the late summer that create unmarked water hazards, especially along the shore. Launching of large boats proves difficult as drawdown falls below the ramp. The launch is inaccessible during low water level conditions but you can still hand launch from the shore. Water levels drop from mid-July to September as water is drawn for irrigation and spring melt-off. The kayaking season is usually from mid-June through October.