Mono Lake is an amazing place to paddle. One can't help but appreciate the lake's harsh beauty while paddling upon its salty waters. The lake has a mystical quality; utterly barren, with a silent, prevailing stillness, with an exceptional beauty of its own. Surrounded by the high desert, the lake's water breathes life into the desolate landscape of the Great Basin.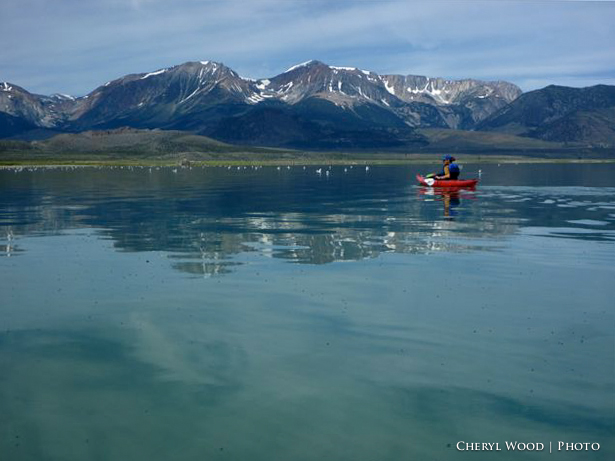 Mono Lake may be one of the most memorable lakes you will ever paddle in the entire state of California. It lies on the eastern side of the Sierra Nevada Mountains, where high alpine peaks descend rapidly in elevation to the Mono Basin. Mono Lake is a massive body of water covering about 65 square miles, at 6383 feet above sea level, just east of Lee Vining. The Mono Basin is accessed via Highway 395, which is one of the most scenic highways in Northern California.
The panoramas between the black islands and bluffs are spectacular. Photographers come from all over, seeking to capture the interplay of light, water, and sky on the mountains and desert. The Mono Basin is a large, relatively flat expanse surrounded by mountains. Due to its proximity to the mountains, Mono Lake has a reputation for and extremes of heat and savage afternoon winds that can really whip up the lake's water surface.
In fact, winds on Mono Lake can reach hurricane force on a typical afternoon. There are warning signs posted all around the lake for hazardous wind conditions. A number of kayakers have been rescued and several have lost their lives while paddling unprepared for the severe windy conditions that can occur on Mono Lake.
Mono Lake is reminiscent of San Luis Reservoir, Lake Tahoe, Lake Isabella, and the Salton Sea. All four have intimidating wind conditions. Use extreme caution if you choose to paddle any of these lakes.
If you capsize in 30 to 40 m.p.h. winds, there's a good possibility that the wind will blow your kayak away, faster than you can swim after it. To prevent this, secure a leash between you and your kayak, and also between your paddle and your kayak, so that you can always retrieve you boat and your paddle. Be aware also that if you capsize in high wind conditions, your kayak could be tossed about by the wind and hit you in the head.
There are a number of additional precautions that should be considered when kayaking Mono Lake:
Begin kayaking early in the morning, especially during the summer months. Winds from the south pick up about midday, which could make the return trip extremely challenging and exhausting.
Don't be seduced by the smooth water surface in the morning, as conditions can change swiftly. The wind comes up suddenly on most summer afternoons, creating dangerous conditions. The lake can go from smooth to choppy within a half-hour.
If you are caught on an island when a strong wind comes up, it's best to wait on shore until the winds die down.
Make sure you are dressed properly for the weather. Wear a hat and sunscreen, bring plenty of water, food and survival equipment for this eventuality.
Get off the lake by noon.
Always check the weather forecast in advance. Heed the weather warnings and use common sense.
It is especially important to stay close to the shore when paddling on a lake that is known for having gusty wind conditions that can easily capsize even the most advanced paddler.
Mono Lake is 14 miles wide. Do not attempt to cross over the lake, especially if the wind picks up. Gusts on Mono Lake have been known to reach 70 m.p.h., enough to overpower the strongest, most experienced kayaker. If the wind picks up, be smart and safe and head to the shore immediately.
Mono Lake's unique ecology creates stunning scenery. The "tufa formations" for which Mono Lake is perhaps best known, were formed the by interaction of freshwater springs and alkaline lake water. They were uncovered when Los Angeles started drawing down water from the lake.
The South Tufa area on the lake's south shore is the most scenic area to explore. The tufa towers continue for about a mile along the shore and it is well worth the longer paddle. The put in area for exploring the South Tufa is at Navy Beach.
Navy Beach is on the south shore, where a parking lot is close to the water. It is the e
asiest place to access the lake and involves the least amount of portaging. You can also launch from Black Point if you want to paddle to the islands, so long as you don't mind carrying your kayak for a long distance.
All types of boating are allowed on Mono Lake, but most of the watercraft you will see are canoes or kayaks. Access is restricted to all islands between April 1st and September 1st to protect the nesting gulls. Kayakers are required to stay away 200 yards away from Osprey nesting sites located on offshore tufa towers.
Most of Mono Lake is accessible all year round. The road to South Tufa Reserve is plowed, during the winter, allowing year-round access except immediately after large storms.
Mono Lake is the largest natural lake that lies completely within the state of California. At 760,000 years old it is among the oldest lakes in North America. The lake is fed from melting snow run-off from the Sierra Nevada Mountains, but it has no outlet. Deprived of its freshwater sources, the volume of Mono Lake was cut in half, while its salt content doubled. It is more than two times as salty as the ocean. The deepest point in Mono Lake is 159 feet and average depth is 57 feet. If you choose to venture out into Mono Lake be aware that its waters hide many unseen hazardous.
Mono Lake's high salt content makes life impossible for fish to thrive. In contrast, the freshwater streams flowing into Mono Lake are home to non-native rainbow and brown trout. The lake is so salty that nothing really lives in it except tiny brine shrimp. There abundance attracts many sea and shore birds, including California Sea Gulls, Terns and Grebes. In addition to the awe-inspiring scenery, the abundance of bird life makes Mono Lake a visual feast.
Other recreational activities you can enjoy at Mono Lake include, hiking, photography, bird watching, swimming, boating, and cross-country skiing. Naturalists lead free tufa walks at the South Tufa Area three times daily from late June through Labor Day, and bird watching walks are offered at the Mono Lake County Park and State Natural Reserve boardwalk from mid-May through Labor Day. Canoe and kayak rentals are available during the summer months.