Welcome to PaddlingCalifornia.com!



your gateway to paddling adventures in California!
Boat-in Kayaking at Lake Tahoe on Emerald Bay
by Janice L Green
In the still of the night and quiet of the day, just as the sun sets, the sound of motorboats and jet skis die down, all you hear is an autumn leaf softly dancing in the breeze. It can be the ultimate kayaking excursion to paddle your way to the boat-in campsites at Emerald Bay. Boat-in camping at Emerald Bay combines the splendor of smooth, glassy water with magnificent scenery. It is a superb kayaker's get-a-way, inviting you to enjoy the tranquility of a pristine alpine lake.
Emerald Bay is one of the most picturesque boat-in campgrounds in all of California. The campsites lie nestled among the soaring conifers alongside the shore. The solitary dock jutting out from of the shoreline is the only thing that divulges the campground's whereabouts.
Lake Tahoe borders overs both California and Nevada. It is the largest alpine lake in North America. Emerald Bay features some of the most scenic shorelines in Lake Tahoe's entire seventy-two mile perimeter. The bay is surrounded by towering evergreens rimmed by a sandy beach. It is known for its deep blue waters and beautiful rock formations, where you will be sure to discover ample photographic opportunities
Whether you enjoy kayak fishing, SUP paddling or boat-in camping, Emerald Bay is an outstanding destination. The boat-camp is a one-of-a-kind camping experience which allows you to not only take in the lake's beauty, but also to appreciate the seclusion of a wilderness area. You will be treated to panoramic views of majestic mountains and towering forests as you set out to explore all of the hidden treasures this magnificent lake has to offer. The mountainous landscape attracts the adventurous spirit and welcomes you to the unparalleled boat-in camping experience.
One of the most pleasurable ways to experience Emerald Bay is to boat-in camp. The small campground, just a few feet from the water's edge is becoming increasingly popular with kayakers. Not too long ago, campsites were only available on a first-come, first-served basis. If the fast-moving boaters arrived first, as they often did, kayakers were out of luck. Now that they accept reservations, paddlers can make their way there, knowing ahead of time that they will have a campsite reserved to pitch their tent.
Fannette Island, located in Emerald Bay, is the only island on Lake Tahoe. The boat-in campground is located on the north side of Emerald Bay, one-half mile east of Fannette Island, at the site of the old Emerald Bay Resort. Fannette Island is located in the bay on the west shore of Lake Tahoe.
The scenic boat-in campground on the north end of Emerald Bay State Park can only be accessed by boat. No roads access the campground. It's one of the most popular destinations for daily boat tours and is an excellent location for bird watching, and bald eagle sightings are common.
Emerald Bay State Park is adjacent to D.L. Bliss State Park. If you launch from D.L. Bliss State Park, you can paddle south to Emerald Bay. D.L. Bliss State Park is situated between the north and south shore of Lake Tahoe, about 17 miles south of Tahoe City on Highway 89, a couple of miles north of Emerald Bay. The park borders Emerald Bay State Park to the north.
During the summertime you will encounter weekend crowds at Lake Tahoe. Thousands of visitors flock every year to view its crystal blue-green waters. The best time to kayak Lake Tahoe is before or after peak summer season, when the crowds are gone. After Labor Day, there should be several weeks when you can boat-in camp before the first snowfall.
Speedboats and jet skis have to enter Emerald Bay between red and green channel-marker buoys, and then travel in a counter-clockwise circle around Fannette Island. There is a 15 m.p.h. boat speed limit elsewhere in the bay. You may encounter many motorboats and jet skis in the bay, but if you paddle within 600 feet from the shore, in the 5 m.p.h. zone you'll be out of their way.
Emerald Bay Campground has 21 campsites located on the north side of the bay at the site of the Old Emerald Bay Resort. There is a self-registration station on the shore near the dock for overnight tent camping. Emerald Bay Campground is on the south side of Emerald Bay. Reservations must be booked a few months in advance. To reserve a site, call 800-444-7275. There is a 7 night maximum stay. For additional information call Emerald Bay State Park 530-541-3030
Kayaks can land on the beach, and a dock is available to unload your camping gear. Bear-proof food lockers are provided, in which all food, drinks and toiletries must be stored. Violators will be cited.
Emerald Bay offers superb kayak fishing opportunities and is famous for the large mackinaw and kokanee salmon that make their home here. Mackinaws are mostly in the 5 to 8 pound range and are usually found at deep levels, but a few may be found in shallow water during the beginning of the season. The best spot to hook a mackinaw is in the Emerald Bay area, and along the northwestern shore.
Emerald Bay is also accessible by launching from Baldwin Beach, which is about twelve miles round trip if you paddle the entire bay. The proximity to Emerald Bay and less developed shorelines makes it a popular tourist kayak spot.
From the put-in at Camp Richardson, you can paddle along a rugged shoreline all the way to Emerald Bay. The area can be a bit crowded, especially on weekends around the Camp Richardson Marina.
___________________________________________________
Contributing Photographer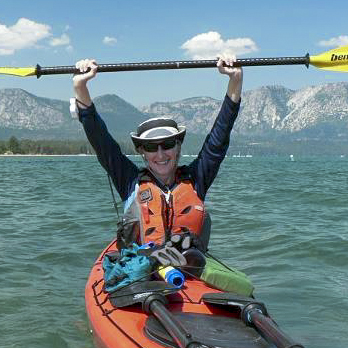 The beautiful photographs above were taken by Cheryl Wood. Cheryl Wood Bio
Known for stylized depictions of landscapes and people, Cheryl is a proven master of capturing unique moments of outdoor enthusiasts in wilderness settings, and she has created a beautiful portfolio of images available for stock photography.