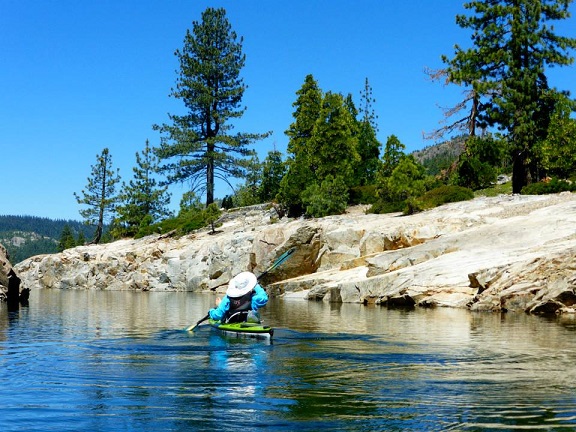 Photo Credit Etsuko Stone
Bowman Lake Kayak, Canoe, SUP & Kayak Fishing Information4
Bowman Lake is a one-in-a-million place to paddle. Located in an unspoiled mountain wonderland, it is one of California's premier flat water destinations, ideal for adventurous kayakers who enjoy paddling remote getaways. "Spellbinding" perfectly describes the radiant beauty of this out-of-the-way alpine lake, surrounded by a thick forest canopy and huge boulders along the shore.
Bowman Lake provides unparalleled paddling in a peaceful atmosphere around its 9 miles of shoreline.
For those who want to stop by and try their luck, kayak fishing at Bowman Lake can be an extremely rewarding experience, and an excellent way to experience this scenic getaway. The serene atmosphere of this secluded lake, located deep within the Tahoe National Forest, can provide superb kayak fishing opportunities on usually calm and placid water. In the beginning of the year, just as the snow pack melts, is the ideal time of year to land a big brown trout. If you're an angler, you're going to love the visibility of Bowman Lake's clear waters.
Open: Bowman Lake is open daily from approximately mid-June to the end of October, weather permitting.
Fees: There is no day use, launch, pet or fee to camp.
Facilities: After a satisfying paddle you may want to take a dip in the refreshing water or take a hike on one of the trails in the area. Mountain bikes are permitted on trails, and because this is not a state or national park, you can bring your dog. The rough lake access road presents a bit of a challenge to get here, which in turn reduces the amount of visitors, but the trailheads can get heavy use on weekends.
Average
Temp
Jan
Feb
Mar
Apr
May
Jun
Jul
Aug
Sep
Oct
Nov
Dec
High

40

42

45

52

61
71

79

82

72
62
47
40
Low
14
17
21
25
31
37
41

41

45
28
21
1
Overall, if you're looking for a secluded getaway, Bowman Lake is the place to go, but once you turn off Highway 20 onto Bowman Lake Road, you need a high-clearance vehicle to navigate the rough road with large pot holes and protruding rocks. Non-motorized watercraft
, hiking, swimming, mountain biking, fishing, and camping are allowed.