Fay Slough

Photo Credit
Phil Gutierrez DOA HUMBOLDT Kayak Club
Fay Slough Canoe, Kayak, SUP & Kayak Fishing Information
There is parking at the trailhead to hike or bike into the slough and wetlands. The trail is flat that winds through the pasture before running parallel to the slough. The trail goes for about a mile before you hit the slough, where upon it splits in two directions.
Improved boat launching facilities are located throughout the bay at Fields Landing, Samoa Peninsula, at the Eureka Public Marina, under the southern end of the Samoa Bridge, at Hookton Slough on the Humboldt Bay National Wildlife Refuge, and at the Arcata Marsh and Wildlife Sanctuary. It is important to note that the Hookton Slough launching area is for non-motorized watercraft only and the Ar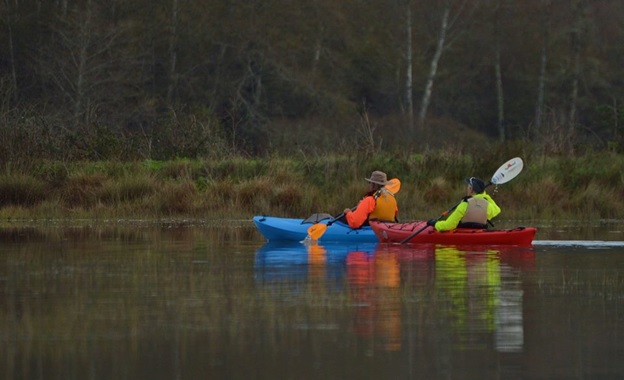 cata ramp is shallow and usable only at high tides.
Fishing is allowed within Fay Slough, as well as in Arcata Bay. The pacific and California halibut are both found in the waters of Arcata Bay. Piers located adjacent to sanding bottoms provide the best fishing opportunities for halibut. The best time to fish is on an incoming tide, about two hours before the high tide being the best. Halibut fishing season usually begins around April. Traditionally, kayak anglers in Arcata Bay have pursued several species of fish including perch, halibut, bat rays and salmon.
Average
Temp
Jan
Feb
Mar
Apr
Jay
Jun
Jul
Aug
Sep
Oct
Nov
Dec
High
55
56
56
57
60
62
63
64
64
61
58
55
Low
41
42
44
48
51
53
53
53
51
48
44
41
Open: The wildlife area is closed to public use from the Monday following the Youth Waterfowl Hunt (usually the first week of February) until April 1st.
Fees: There aren't any day use or launch fees at the Eureka Marina public launch, but
there is a fee for parking.
Fay Slough Wildlife Area - Humboldt County Neil Manji
601 Locust Street Redding, CA 96001 Ph: (707) 445-6493