Lodi Lake (and the Mokelumne River)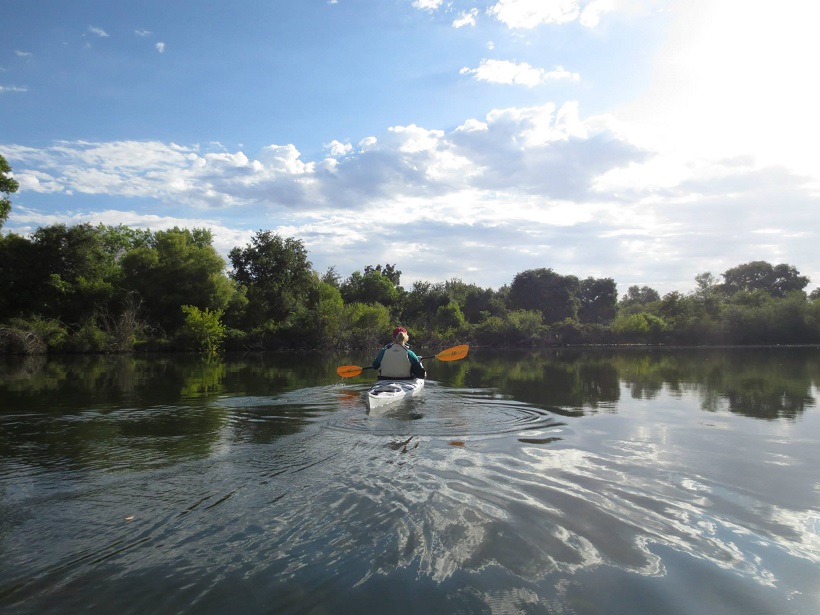 Photographs b
y J
eff Hobbes
Paddling a flat water river is a great way to enjoy the
outdoors, and is typically more peaceful than whitewater kayaking. It enables the paddler to take in the scenic views and wildlife in its natural habitat. The Mokelumne River from Lodi Lake is a flat water paddler's paradise on hot summer days, with its cool, refreshing water, and scenery so beautiful that it's hard to remember you are only thirty minutes from Stockton.
Flat water kayaking on Lodi Lake and the Mokelumne River is one of the most relaxing things you can do. You ease into a soothing, rhythmic motion as you paddle through ripples and eddies. As the river winds its way along picturesque foothills and canyons, you can catch a glimpse of a variety of birds, such as great white hero
ns, geese, ducks, and turkey vultures. The area is also home to an abundance of wildlife, so it should come as no surprise to see raccoons, opossums, beavers, deer, river otters and skunks.
The waterways of the Mokelumne River can easily be navigated by a novice kayaker, but are still challenging enough for paddlers who seek more of an adventure. The river offers both flat and white water paddling, with faster water during spring runoff. Early in the season the river can be quite fast and high, but later in the year, you can scrape on rocks in a few places. During low water level, there are some shallow spots with sand bars.
There are shallow alcoves to explore in surprisingly clear water only a foot deep. Or you can find yourself a secluded fishing spot and soak some bait for stripers and steelhead, or throw some plastics for bass. The many trees that line the river provide much needed relief from the heat in the summertime.
Average
Temp
Jan
Feb
Mar
Apr
Jay
Jun
Jul
Aug
Sep
Oct
Nov
Dec
High
55
62
67
74
81
87
91
90
89
79
64
55
Low
37
40
43
45
50
54
57
56
53
48
41
36
Open: The launch is available from 8 a.m. to 6 p.m.
Fees: A fee is collected for vehicle entry into Lodi Lake Park whether or not a gate attendant is on duty. A self-serve pay station. There are fees to park, to launch, for pets to swim, and for day use entrance fee. The launch fee is $5 per gas-powered watercraft, trailered or not, plus vehicle entrance fee. Non-trailered canoes/kayaks, rafts, remote-controlled boats are charged only the vehicle entrance fee.
Facilities: The facilities consist of nature programs, kayaking, canoeing, jet skiing, boating, fishing, picnic tables, restrooms, boat launch, playground, swim beach, and hiking trails. Kayak, canoes and stand-up paddle boards are available to rent. Charter boat tours of the Mokelumne River.. Trips begin in April Call Ph: 209 333-6742 for more information Dogs aren't allowed on the grass picnic area, in the water, or on the nature trail,
Lod
i Lake Beach features a large sandy beach area for plenty of fun in the sun. CAUTION: Lodi Lake has had high levels of fecal bacteria in the past. The combination of hot weather and low flows on the Mokelumne are likely reasons for the high bacteria levels. There are also free roaming cattle in the area.