Photo Credit
Etsuko Stone
The most challenging part of planning a kayak excursion is deciding where to go. If you're ready for an open water paddling experience, kayaking is an exhilarating way to explore Monterey Bay offering an incredible perspective of marine wildlife and stunning coastal scenery.
This kayaker's paradise is about a two hour drive south from San Francisco and the Bay Area. You can't beat the scenery in Monterey, where the climate is mild year-round. Summer mornings can be a bit overcast but calm which is wonderful for wildlife viewing. The best time of day to paddle is in the morning when it is usually a little calmer. The late afternoon can be nice as well when the wind dies down, though strong afternoon winds can pick-up quickly.
You may catch a variety of species kayak fishing on the bay including salmon, rockfish, lingcod, mackerel, surfperch, smelt, halibut, or squid. Catches vary from year to year depending upon variables such as ocean and weather conditions. Depending on the current season, kayakers can try their luck at salmon, albacore, giant squid, lingcod, halibut, rockfish and white seabass. Don't get in harm's way of aggressive wildlife, especially sea lions, seagulls and pelicans that may try to steal your bait or catch. .
Average
Temp
Jan
Feb
Mar
Apr
May
Jun
Jul
Aug
Sep
Oct
Nov
Dec
High
62
63

64

64
65
65
66
06
66
68
66
64
Low
42
44

44

45
48
50
52
53
50
50
46
42
Fees: The Breakwater Cove launch in Monterey is free, but there is a fee to park. A public restroom is located at the edge of the pier and a kayak rental in the adjacent buildings.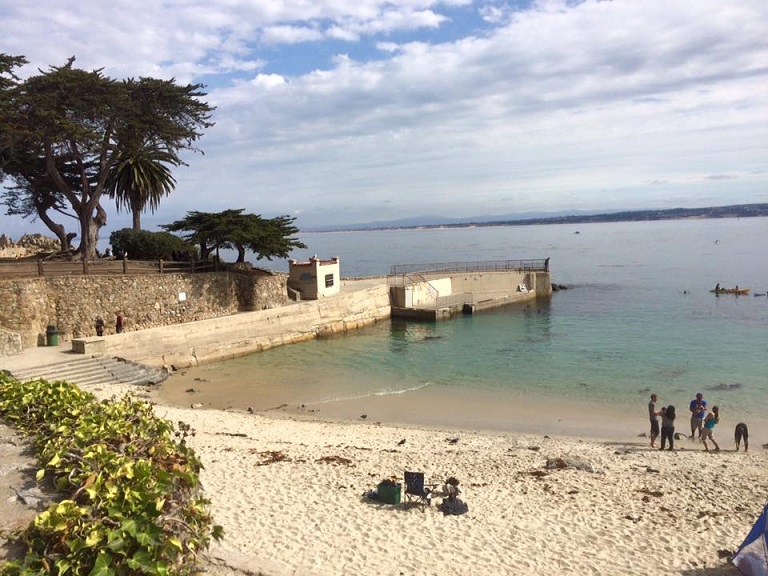 Open: Paddling is allowed daily year-round, 24 hours a day with the proper lighting. While you are kayaking in the harbor, and especially at the entrance around the jetty, keep a lookout for sailboats. Give sailboats the right of way as they are less maneuverable and may not see you. Motorized craft are prohibited in some areas of the bay. California law limits speed to 5 mph within 100 feet of a bather or within 200 feet of a beach. In parts of Santa Cruz County, speed is limited to 5 mph within 900 feet of the beach. Swells and gustier winds can be more noticeable as you paddle around the breakwater jetty and venture out beyond the harbor towards Cannery Row.
Bay Facilities: For those who want to do more than lounge on a beach, kayaking is a fun recreational activity that keeps you fit and near the cool ocean breeze. Kayaking is a special way to experience the Monterey Bay. Appropriate for novice and seasoned kayakers, this paddling adventure can provide plenty of stories to share that last for years to come.