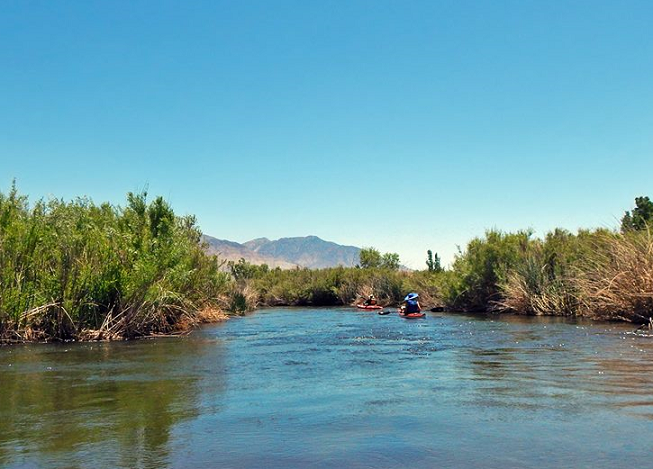 Photo Credit Jim Snyder
Lower Owens RIver Kayak, Canoe, SUP & Kayak Fishing Information
For the nature lover in you, nothing parallels the panoramic views and remarkable Sierra sunsets of the Lower Owens River. Located in the Eastern Sierra Nevada, the
picturesque Lower Owens River has been described as "California's latest paddling paradise." Until 2005, the Lower Owens River was little more than an arid valley floor. Jagged mountain peaks to the west of Lower Owens River rise nearly 10,000 feet. To the east, the majestic mountains rise abruptly from the Owens Valley, with their highest peak at 14,242 feet.
The Lower Owens River is a perfect destination for back-to-nature pursuits. The river is peaceful and provides a plethora of pleasurable paddling pursuits. Often the only sound is the occasional melodic song of a bird soaring overhead. Because of Lower Owens River's size and depth, boating is limited to kayaks, canoes and rafts. The area offers additional forms of enjoyment such as photographing, fishing, hiking, camping, and bird watching.
Lower Owens River is a beautiful place to take a break from fast paced urban life. The area's wildlife and rich history, along with the superb paddling opportunities, combine to make Lower Owens River a destination to satisfy everyone.
The Lower Owens River flows through the eastern edge of Bishop and is becoming well known for kayak fishing. The river meanders through a flat valley with undercut banks, where riffles and aquatic vegetation provide plentiful cover for trout. Because the water is alkaline-rich, insect life is abundant, capable of overloading the angler with hatches. Brown trout dominate, although there are wild and stocked rainbows, with trout on the whole averaging 10 to 12 inches. Due to the rural nature of Lower Owens River's location and miles of shoreline that the river encompasses, anglers often have the place to themselves. That works out well for the fish and the preservation of the area. Lower Owens River offers great fishing and is best known for its outstanding brown trout fishing opportunities.
In the sections of the Lower Owens River that are not restricted to artificial lures, you can use standbys such as salmon eggs and night crawlers to take home a limit of tasty trout. Flows in these stretches of the river can fluctuate often due to the water needs of Los Angeles.
Open: The river is accessible year round. However, rainfall can make the dirt roads a bit challenging to drive on.
Fees: There is a fee to camp, and for the shuttle back to your vehicle.
River Facilities: Whether you come to kayak, fish or observe nature's beauty and enjoy a
relaxed way of life where time slows and worries vanish, Lower Owens River is a great choice for your next trip and a beautiful place to canoe or kayak. With fishing, kayaking, hiking, and the spectacular scenery surrounding the river, there is something to please any outdoor lover. This destination is far enough away from civilization to rejuvenate, but close enough that you don't spend the entire trip getting there.