Petaluma Rover Kayak, Canoe, SUP & Kayak Fishing Information
If
you're looking for a pleasant paddle with lots of wildlife and birdwatching, paddle the Petaluma. The paddling possibilities on the Petaluma River are never-ending. Whether you paddle by kayak or canoe, the Petaluma River, in Northern California is a remarkable getaway.
The Petaluma River is a tidal slough that empties into San Pablo Bay. The lower 12 miles of the Petaluma River flow through the Petaluma Marsh, is the largest remaining salt marsh in San Pablo Bay. The marsh covers 5,000 acres and is surrounded by approximately 7,000 acres of reclaimed wetlands. The marsh provides an important wildlife habitat and fish hatchery.
The Ultimate Paddlers Guide to 264 Extraordinary Flat Water Destinations in California. BUY HERE

Kayaking California's Flat Waters is the most beautiful and informative resource available for California paddling enthusiasts.
In the North Bay, a mosaic of waterways provides paddlers access to a world where there's little if any boat traffic; where the water is often mirror smooth and bird sightings await you around every bend. Paddling south into Petaluma Marsh connects you to the Napa-Sonoma Marsh Wildlife Area and 50,000 acres of tidal wetlands that are habitat for birds and wildlife.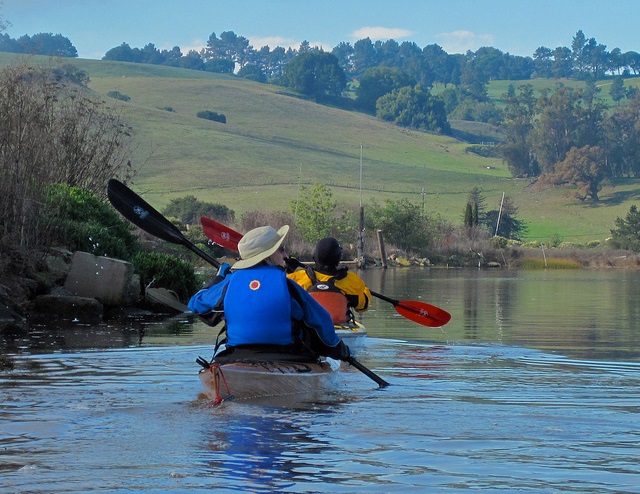 :As you wind your way through an urban setting, you'll paddle into a wilderness area. This wildlife area is comprised of several units totaling approximately 4,200 acres of tidal salt marsh, mudflats, coastal oak woodlands, and coastal scrub habitats. Migratory bird species use the area most heavily during the fall and winter months, but many can be found year round. Egrets, herons and coots sightings are the most common along with many species of ducks, along with curlew and ibis. If you
keep an eye out, you'll also catch a glimpse of barn owls, red-tailed hawks and prairie falcons. The wildlife sightings can rouse nearly anybody. The area also supports deer, raccoons, jackrabbits, and foxes.