Photo Credit Jim Snyder
Slab Creek Reservoir Kayak, Canoe, SUP & Kayak Fishing Information
Slab Creek Reservoir lies in a deep gorge in the upper S
outh Fork of the American River in El Dorado National Forest in Placerville County. The South Fork American River is one of the most popular whitewater rivers in the western half of the United States. Slab Creek Reservoir is the only disruption in a series of whitewater runs lying upriver of Chili Bar Reservoir. It is a fabulous paddling destination that not many people know about. Only an hour's driving time from Sacramento, it is a must see retreat for paddling enthusiasts who enjoy flat water in a peaceful atmosphere, void of all motorized water vessels.
Slab Creek Reservoir holds a good population of rainbow trout which provides the best action in the early spring. During the later part of the spring and through the summer, your best bet is to troll for rainbow and brown trout from the dam on upstream.
Average
Temp
Jan
Feb
Mar
Apr
Jay
Jun
Jul
Aug
Sep
Oct
Nov
Dec
High
54
61
65
72
80
89
95
94
89
79
64
55
Low
39
42
45
47
52
57
61
60
58
53
45
39
The reservoir is wider at the Slab Creek Road western put-in, and the reservoir's water level does not affect the put-in. However,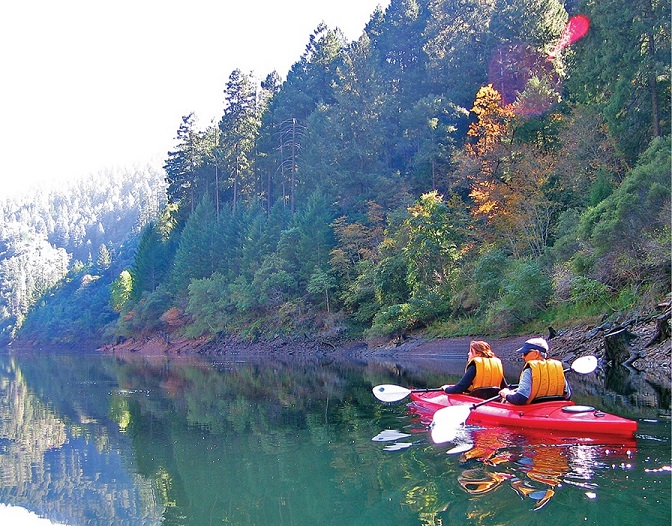 the last mile of Slab Creek Road is a narrow, dirt and wash-board road that runs along the side of a steep mountain, and there are only a few small turn-outs for negotiating oncoming traffic. You could literally be forced to back up this narrow, winding road, similar to the access road to Thomas Edison and Florence Lakes.
Facilities: The reservoir has accessibility problems in the event of an emergency or sudden change in weather conditions. There are only two access points at the lower and upper ends of the reservoir, and no access in-between. Cell phone coverage, though spotty, is available in the event you run into trouble. Only non motorized vessels are allowed. Fishing, boating, swimming, and hiking.
There isn't any camping facilities at Slab Creek Reservoir. The nearest camping facilities is at Jenkinson Lak
Open:The gate at the road entrance automatically opens at dawn and closes at dusk. On a weekday, consider arriving at dawn, when there's less chance of wind on the return trip or difficulty parking. Due to the limited number of parking spaces available, if you find a space when you arrive, park your vehicle and hand carry your kayak to the water, to avoid someone else taking your parking space.
Avoid using the eastern put-in during windy conditions. If the wind picks up, you may have to paddle against strong head winds or against a strong current on your return trip. Also, when the reservoir's inflow increases, it can be very strenuous paddling ag
ainst the swift current to get back to your vehicle. Sunrise to sunset, 7 days a week, year-round weather permitting.
Fees: There is no day use or launch fee.